Last Updated on
We all know long hair is high maintenance… but long naturally curly hair can be a world of pain. Besides having to discover the right routine to keep your tresses healthy, you might be struggling with knowing how to style your long curly hair in different ways. In today's post, I will give you 3 versatile hairstyles ideas to make the most out of your beautiful long locks as simple as possible.
3 Versatile Ideas for Long Curly Hair
1. Messy bun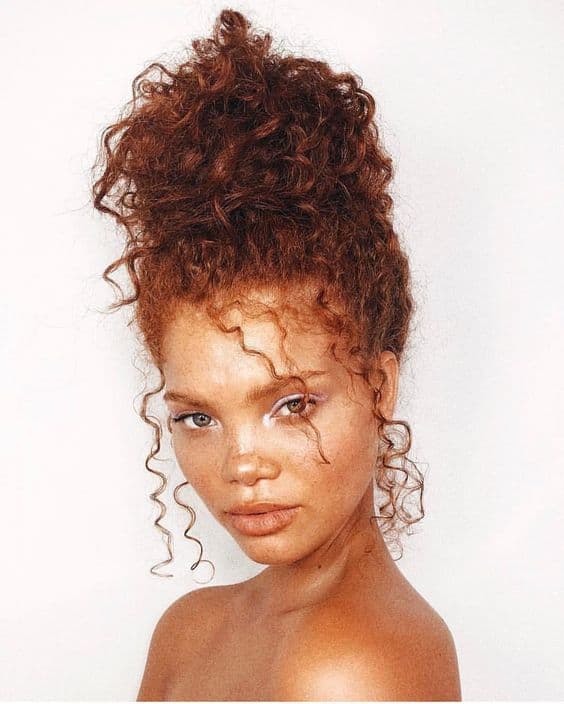 This is an easy yet stylish way to put up your hair. Requires minimal effort and can be sported for any casual event, or even a party where you want to look effortlessly good. If you actually wear your hair in a messy bun often just to keep your locks in order, step aside from your usual hair rut by adding a statement hairpiece. All that you need to do to accomplish this hairstyle is:
Grab all your hair and put it up in a loose or tight ponytail. Don't worry about combing your hair, we aren't going for a sophisticated look but for a relaxed one.
Twist your hair around the ponytail base and then secure it. You can leave the tail out or hide it.
Add a fun element, like a colorful hair scarf.
This is a versatile hairstyle because you can use multiple types of hair adornment to get different results. You can also play with the height of the ponytail to get variations of the same messy bun. Plus, and this is a big plus, this is the perfect hairstyle for a lazy day where you don't feel like washing your hair.
2. Sleek at the front, party at the back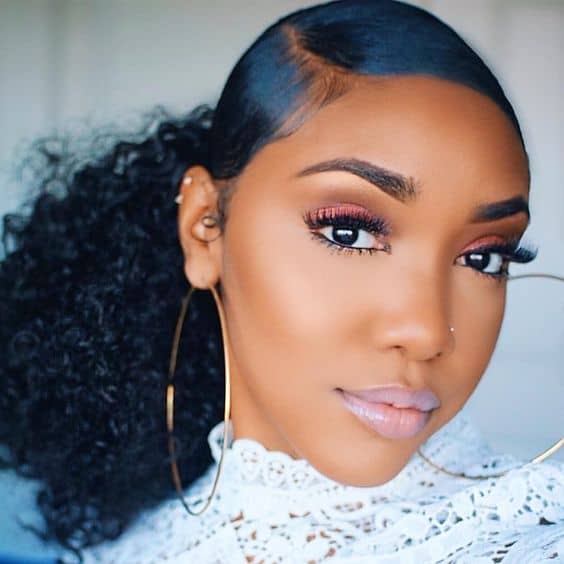 A sleek curly ponytail will look amazing on you due to the contrast of textures. While the base of your head is ultra polished and shiny, the back of your hair is full of wild and chaotic locks. This is your go-to hairstyle when you want to look classy and minimalistic. You can sport it on several occasions, even for elegant events. The steps you need to follow to get this look are:
Prepare your hair adding your favorite product to shape your curls. You can also use hot rollers, after a heat protectant.
Put your hair upside down and use your fingers to detangle your hair and separate your curls.
Gently scrunch them with your hands.
Part your hair or put it all to the back. Use gel and brush the base of your head to smooth it.
Choose the height your ponytail will have.
Tie your hair, smooth it with your hands while tying it so no lock will be out of place.
Select a small piece of hair and cover the base of the ponytail with it.
Easier than it looks, right? This is also a versatile hairstyle. Just with a few adjustments, you can vary the result. Although it has a minimalist aesthetic, you can go extra and combine this ponytail with hair rings. Place them at the base of your head or attach them to some of your locks.
3. Half updo top knot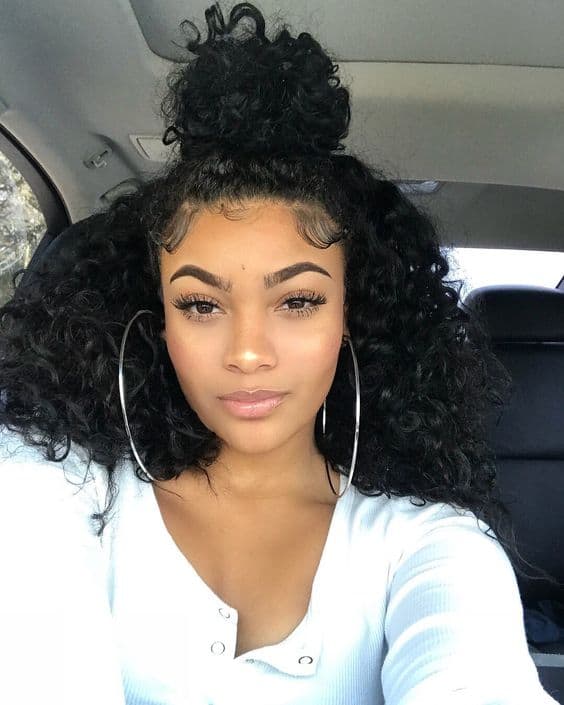 Half updos are one of my favorite ways to style hair because of how suitable for any occasion they are. You won't need too much dedication to be able to pull it off. Your free-flowing hair will look fantastic while your top knot will give you the right amount of trendiness. Follow these simple steps to achieve it:
Start with dry hair. If it looks a little flat, you can use dry shampoo to add more volume to it and keep it fresh.
Section your hair. You should grab enough of it from the front to have a full knot, and leave enough at the back so your mane won't look scarce.
Make a high ponytail and secure it.
Tease the mini ponytail to make it more voluminous and spray it.
Twist your hair and start wrapping it around the ponytail base.
Secure it with bobby pins.
Use hairspray to hold it in place for as long as you need your knot to be.
You can embellish your half updo adding an interesting element to your top knot, like a nice hair tie with flowers or rhinestones. Using a ribbon would be an adorable touch too.
These were my 3 Versatile Hairstyles for Long Natural Curly Hair. You can modify them so they will never look the same.
Image credits:
Demi Di on Pinterest
Ketobmugbbread on Pinterest
Joycelin uyadi on Pinterest