Last Updated on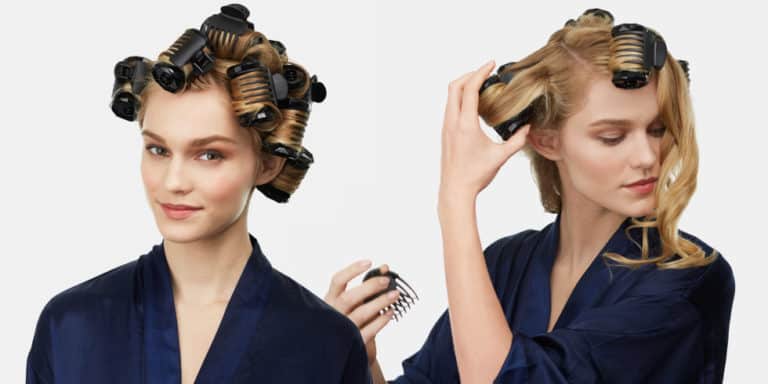 I hope you'll agree with me when I say:
Hot rollers are one of the most reliable and least appreciated hair styling tools on the market today. They have been around for decades.
And, while the concept behind them has gone unchanged, the technology has changed dramatically. Today, they use the latest technology to not only curl hair but to keep it hydrated and healthy.

They also use molecular science to prevent hair from burning under the heat.
Their compact cases make them easy to carry and store.
They also heat up and cool down quickly.
The best hair rollers also come in a variety of price points to fit every budget.
You can use them on thick and thin hair, as well as long and short hair. They can feel a little awkward at first, but it doesn't take long to get used to having a head full of funky rollers. Unrolling the curlers is the pay off – those big bouncy curls are worth the time and effort.
Whether you are ready to update your old case of hair rollers or you are trying them for the first time, these are the top 10 hair rollers on the market today:
The Best Hot Rollers Reviews – Top Models of 2021
1. Infiniti Pro by Conair –

Instant Heat Ceramic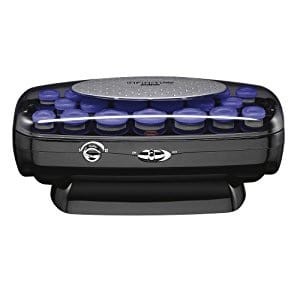 Conair has been a go-to brand for hair rollers which are loaded with features. There are 20 rollers with ceramic flocking to prevent hair from burning.
These rollers heat up in just two minutes so you can speed up your beauty routine. The rollers have argon fused into them which helps prevent any troubles with frizz. Conair includes three different sizes: 1 ¼ inch, 1 inch, and ¾ inch. These are perfect for all lengths and types of hair.
One of the biggest benefits of the Infiniti Pro is the fact that the temperature can be set at 12 different settings. These temperature choices make these the best heated hair rollers. This product works so well that your curly hair will last all day. To ensure bouncy, amazing curls, these come with claw-like clips instead of the typical pins to keep the curlers in place. Each claw is specially designed to fit the different sizes of curlers with little teeth to keep the rollers from uncurling.
Pros:
20 rollers
12 different heat settings
Claw-like clips
Cons:
Clips can be hard to use
Two minutes to heat up

---
2. CARUSO Professional – Molecular Steam Hairsetter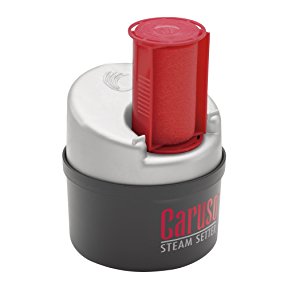 Caruso has created a unique set of curlers that uses molecular steam. The set includes 30 rollers, a carrying case, and the special hairsetter. These are designed for all hair types and they even create curls in the thinnest and finest hair.
They use steam to moisturize and condition hair as the curl sets. Once the rollers are put in the hair, curls will set in 5 to 10 minutes; but if you want to speed up the process, a hair dryer helps set the curls in 30 seconds. The blow dryer will evaporate the moisturizing steam quickly.
Caruso has been making hot roller sets for several decades and there are people who still have sets that are 20 years old. The newest model (this model number C97953) includes the latest in curl setting technology that pushes steam molecules into the shaft of the hair to create curls that last for days. This is better for the hair than rollers that heat from the outside in. Caruso includes six petite rollers, small rollers, medium rollers, large rollers, and jumbo rollers.
Pros:
30 rollers
Use molecular steam
Works on fine hair that is difficult to curl

---
3. Babyliss Pro Nano Titanium – Best Rated Hair Rollers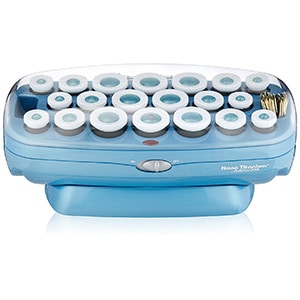 These unique little curlers are all about the latest technology. The BaByliss Pro Nano Titanium Self-Locking Hot Curling Sticks are like no other hot rollers. They aren't the traditional round curlers that require pins or claws to hold them in place, they are little sticks that close up on themselves. Of course, other companies sell curling sticks, but not like this BaByliss set.
These are professional quality made of the Nano Titanium technology that creates heat from the inside of the hair, rather than from the outside. This keeps the hair hydrated and healthy, instead of dry, brittle, and frizzy.
The Nano Titanium set includes 20 sticks in two sizes, ⅜ inch and ½ inch to create small and medium curls. Each stick turns into a circle and the ends come together in a self-closing mechanism. The little curling sticks do not hold much hair, so the curls end up being rather tight and they hold extremely well.  These can be purchased online or in beauty supply stores. These curling sticks will curl even the hardest-to-curl fine, thin straight hair.
Pros:
Curling sticks
Self-closing
Nano-Titanium Technology
Cons:
Small diameter sticks create tight curls

---
4. Revlon Perfect Heat Longwave – Recommended for Long Hair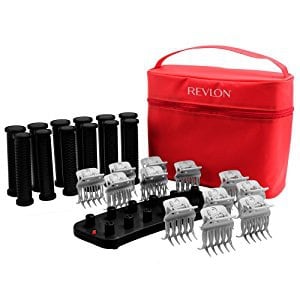 The Revlon Perfect Heat Longwave Hair Setter rollers are the best for long hair. They are designed to give long hair those trendy beachy waves. They do it with the set of 12 extra-long rollers in medium and large sizes.
The rollers come with hair clips rather than pins to hold them in place. The 12-piece set comes with a storage pouch and a heating piece that has an indicator that turns white when the rollers hit the ideal temperature.
The rollers heat up quickly and they get rather hot. Each roller holds much more hair than the average hot rollers hold, which makes them ideal for long hair. After rolling them in the hair, it usually takes about 15 minutes before they cool down and the hair sets.
They are made of plastic rather than ceramic or other newer hair technology, but they are still safe for hair.  They are lightweight and comfortable to have in for the short amount of time it takes.

Pros:
Quick to heat
Get very hot
Extra-long rollers for long hair
Cons:
Made of plastic
Get very hot
Only 12 rollers

---
5. Paul Mitchell Neuro Cell – Premium System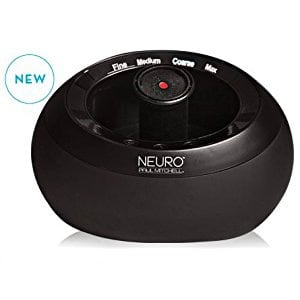 Are you short on time but want quick beautiful curls? Do you think that you have to choose between hitting snooze and having a headful of beachy waves? If so, you're in luck! With the Paul Mitchell Neuro Cell Premium, you don't have to choose between sleeping in and looking your best! It is quick to heat, heating in as little as seconds. This is a vast improvement on most hairsetter sets on the market today. You can start heating them, brush your teeth, and you're good to start curling your hair!
But are you worried about if the Paul Mitchell Neuro Cell Premium Hot Roller System will work for your hair type? You don't have to! This set has options available for every kind of hair out there and makes choosing the right heating option easy as can be.
Choose between four different settings depending on your hair type: Fine, medium, coarse, or, for the most power, max.
This brand has a single minor problem, however. While the rollers heat up quickly, it only comes with six rollers. If you have chunky hair, that might not be enough. Thankfully, the rollers heat so rapidly that you can reuse the rollers without adding much time to your beauty routine!
Because of how quickly they heat, you might save more time than you would lose by doing this. Despite this minor flaw, this product is still an excellent addition to your beauty arsenal.
Pros:
Heats very rapidly, in as little as eight seconds.
Four different settings for different hair types. Includes Fine, Medium, Coarse, and Max.
Has a one-hour shutoff feature, for your safety.
Indicator light will change color when rollers are ready.
Cons:
Only comes with six rollers.

---
6. T3 Voluminous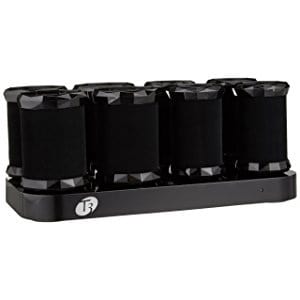 When you are looking for big, beachy waves, the T3 Voluminous Hot Rollers get the job done perfectly. These are not the typical tight-curling rollers that often come in a hair roller set. These are large rollers with a bigger-than-average diameter so the waves look luxurious and bold.
These rollers have velvet flocking on the outside to keep the hair soft, but a tourmaline and ceramic core to heat the hair from the inside out. This protects the hair from frizzing. Tourmaline and ceramic technology actually helps hydrate hair and seals the cuticle.
Your hair will look shinier after setting it than it did before rolling it up. T3 added ionic, infrared heat to keep the hair silky and shiny.
The set comes with eight rollers, four are extra large and the other four are large. It also comes with a charging base and eight spring-loaded clips. The luxurious tote also has a detachable cord and voltage that can be used all over the world. T3 also includes a two-year warranty.
These are recommended for thick hair and for long hair due to their diameter and length.

Pros:
Ceramic-tourmaline technology
Extra-large curlers
Two-year warranty

---
7. Conair Compact – Multi-Size Hot Rollers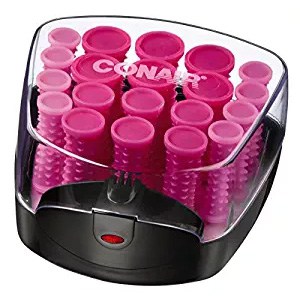 What is the secret to beautiful curls and glamorous waves? A good hair setter! And one of the best hair setters available is the Conair Compact HairSetter. It's a powerful product in a small, easily-transported package.
The tiny footprint is easy enough to tuck away, whether you're short on counter space or you need something to help you travel in style. Why would you settle for anything less?
With the Conair Compact HairSetter, you don't ever have to settle again! This hair-setting kit, made by the famous and trustworthy hair-care company, Conair, is a mixture of everything that you want in a set of hair rollers. They are small and come in a compact package, perfect for bathrooms that are lacking in counter space, or for someone who needs to travel frequently and want flawless hair on the road.
The entire set weighs in at just 2.6 pounds, with dimensions of 6 by 7.4 by 12.9 inches; this makes it easy enough to tuck into your bag, or beneath an already-crowded counter.
The Conair Compact HairSetter also offers a variety of roller sizes, so that you're never without rollers for your hair, regardless of its length or thickness. There are six large, six medium, and eight small rollers to match to your own needs. However, some people with short or thin hair may find it hard to keep the rolls in. Some extra clips may help.
Pros:
Very small and easily transportable.
Has curlers in varying sizes for all types of curls or waves.
A light that shows when the rollers are ready to be used.
Cons:
People with thin or short hair may find it difficult to keep the rollers in place.

---
8. Vokai Labs – Best Hot Rollers for Short Hair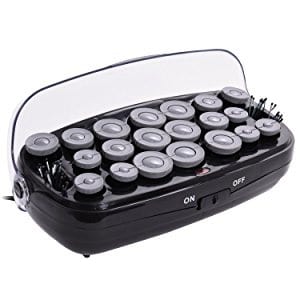 Do you want beautiful waves or playful curls? Are you tired of frying your hair with a curling iron to get sub-par results? Then you should invest in a good hair setter!
And there are few better hair setters than the Volkai Labs HairSetter. If you are looking for excellence in hair-care, and an all-inclusive option for your hair, then you need look no further!
With this product, you will have access to every hairstyle you could possibly want, via their numerous rollers. To ensure that you have the best results, they come with two different kinds of clips, so that you can feel secure in your rollers.
These include the basic roller clips that come with most sets and butterfly clips for even more hold. For those who have very unruly hair, very thin hair, or even short hair, this is a great perk for a hair roller set to have. If that describes you, or if you're just looking for a good set, then you should consider the Vokai Lbs Hot Rollers HairSetter.
The only downside that we've found is that a slight bad smell can sometimes be detected when the rollers are heating up. This has been compared to the smell of hot plastic. Thankfully, it isn't there in every case, doesn't transfer to your hair, and normally goes away after a few uses.
Pros:
Has a wide variety of roller sizes.
Comes with two kinds of clip, for a more secure hold.
Has a small foot-space, perfect for travel or storage.
Comes with a limited one year warranty.
Cons:
Can have a plastic smell when heating up, but isn't found in every item and will dissipate.

---
9. Remington T|Studio Thermaluxe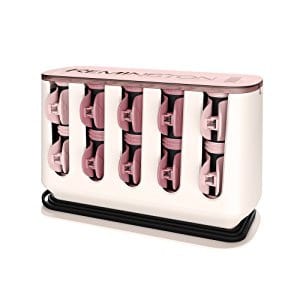 Another excellent set of hair rollers comes in the Remington T|Studio Thermaluxe Ceramic Hair Setter, Hair Rollers. These are a perfect set for all types of hair. This set includes 20 rollers, which is enough for an entire head of massive hair.
It includes 12 large rollers that measure 1 ¼ inches in diameter and 8 medium rollers that measure 1 inch in diameter. These electric curlers are coated with ceramic so they heat the hair from the inside to minimize frizz. It only takes about five minutes for curls to set – this is at least 15 minutes faster than other rollers take.
The Remington Thermaluxe Ceramic Rollers only take 90 seconds to heat up – this is one of the quickest sets on the market today. You will know they are at the maximum temperature because an LED lights up. The curlers are held in place by the specially designed clips.
The set also comes with clips that help with sectioning hair. The pretty pink case holds the rollers in place and the electric cord wraps nicely around the bottom of it.
Pros:
20 rollers
Ceramic rollers
Attractive case

---
10. Calista Tools Ion Hot Rollers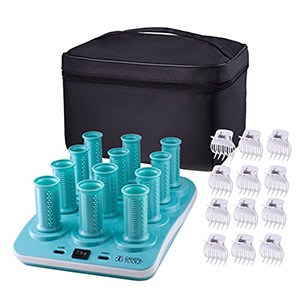 If you find yourself wanting the best, most beautiful hairstyle in a fraction of the time, then you'll love the Calista Tools Ion Short Style Set! It's specially made so that it will heat more rapidly than other sets, meaning you'll have your dream hair even faster!
It's the speedy heating that really sets the Calista Tools Ion Short Style Set apart from other similar products. While most hairsetters can take a long while to heat up, and then quickly lose heat once they're in your hair, the Calista is the opposite.
The rollers will heat very rapidly inside of the base and are specially designed to maintain that heat, even once they're in your hair.
For women with a lot of hair, this can be great: No more getting half of your hair rolled, then finding the other half has already cooled. Are you perpetually running late in the morning? Then this is for you, too! Save precious time by using the Calista Tools Ion Short Style Set!
The only real downside with this product is that the clips don't work very well for a thin hair. This can lead to the rollers falling out of your hair, which is more likely because these rollers are a bit heavy. To combat this, you could use extra pins to hold it in place.
Pros:
Heats very rapidly in the base.
The rollers are designed to maintain the heat.
Is relatively small, so that you can store it easily or travel with your set.
Comes with twelve rollers.
Cons:
The rollers are a bit heavy.
The clips don't work as well as others, especially in thin hair.

Your Ultimate Buying Guide
The hot rollers have similar features. What you choose depends on your hair and the style you want to achieve. If you have hair that is prone to split ends and frizz, it is in your best interest to look for rollers that use a combination of tourmaline and ceramic. These materials work together to heat the hair from the inside, so the outside stays shiny and healthy.
Other materials heat from the outside, so the cuticle of the hair can break resulting in split ends. Another good pairing of features to look for to keep the hair healthy is infrared and ionic technology.
Like ceramic and tourmaline, this feature also heats hair from the inside. The infrared and ionic heat does not have to get as hot as the other types of materials need to be.
The number of rollers in the set can also be a consideration. If you have thick hair, you will want more. Otherwise, you might have to buy two or more sets to curl your hair all at once. If you have long hair, it can be helpful to have rollers that are longer than average.
It is also helpful to look at how many different sizes of hair rollers come in the set. Some will have rollers that are all the same size and other could have three or four different sizes. If you have hair that is all one length, you most likely will want rollers that are all the same size.
Layered hair looks great with different sizes rollers. If your hair is shorter than shoulder length, you will want to have rollers with a small diameter – but longer hair works well with rollers that are at least one inch in diameter.
The best hair rollers should heat up quickly. It is a waste of your time to stand around and wait several minutes for your case of hair rollers to reach their maximum temperature. Some sets will heat up in less than two minutes. Then, you should consider the time it takes for the rollers to cool and set the hair. If you have to wait over 20 minutes, that is a long time.
When it comes to hair rollers, most of the sets have one temperature – hot. However, there are some that actually allow you to set the temperature to different degrees. There are also some that have low, medium, and high settings. These different settings can be helpful for hair that is layered, or for hair that has different textures.
The hottest setting can be too much for fine hair or for hair on children, so a hair roller set with adjustable temperature settings is safer to use. Also, if you have hair that is already treated with color or other chemical processes, lower settings are better to use.
How to Choose the Best Hair Rollers for Your Hair
The best way to choose the best sets for your hair is to consider your hair. If you have thick hair that curls easily, you should be just fine with a hot roller set that has one temperature. If your hair is thin, you will want a set with several heat options. You should also consider the amount of hair you have and buy a set with the necessary number of rollers you will need.
You should also consider the technology that you want to use. If you are only using hair rollers for special occasions, then you can probably get away with a less expensive set that is made of plastic.
However, if you are using them on several times per week, then you will want to buy a set that uses the latest in hair-protecting technology like the ceramic, tourmaline, infrared sets. Also, the length of your hair should make a difference in the set you buy. Long hair needs bigger rollers than short hair.
Of course, the price is always a consideration, so get one that you can afford. If you travel, you should also look for a set that is easy to pack up and transport and comes with an electric cord that works with all voltages.
Why Use a hair Roller Set?
Hair rollers are one of the most enjoyable types of hair styling tools to use. They work on all hair types and they create beautiful curly hair. One of the best reasons to use a hair roller over a curling iron or a flat iron is because they are safer to use.
Yes, the rollers get hot – quite hot, actually – but they are designed to not burn fingers or other parts of the body. The roller itself is usually covered with a softer material and the ends of the roller stay cool.
If you grab the hot part of the roller, you will feel the heat, but you will not get burned like you would with a hot metal or ceramic curling iron.
Curling irons work well on thick hair, but people with fine, straight hair have difficulty getting curls to stay. Hot rollers will curl all types of hair. Fine pin-straight hair will hold a hair roller set, especially when you given them time to cool down.
They create a luxurious type of curl that just doesn't happen with curling irons. The pin-up girls from the 1950's used hair roller sets to achieve those sexy, bouncy curls. The newest technology still allows for those voluminous curls, but they do it in less time and with less damage to the hair.
Curling irons can make the hand, wrist, and arm tired. Since you constantly have to hold the curling iron in place, it is easy to get fatigued. However, with a hot roller, the curlers are held in place with clips or pins. All you have to do is roll up the hair, but the clip in, and wait for the roller and your hair to cool down.
You can do your makeup while you wait. With curling irons, you have to keep working on your hair. If you have a thick head of hair, curling it all with an iron can be exhausting work; but with a set of rollers, you won't get tired. This is a great reason to invest in a luxurious set of rollers.
A good set of hair rollers can last for decades. They are easy to care for as the rollers themselves are not electrified. You can wash them in water to remove residue from hair products. This is not the case with a curling iron. They are much more difficult to clean, simply because they have an electrical element inside that can be damaged by water.
They come in cute little cases that make them easy to store and easy to take on vacation. Since many of them come with different voltages, you can be use them at home or abroad.
In addition, they are less likely to damage the hair, even as time goes on. Older curling irons made of aluminum frequently burn hair. Since curling irons get so much use, they do not last as long and they can have more problems. Hair rollers in contrast, do not get as hot and they do not stay hot once they are put in the hair.
The newest sets are designed to keep the hair safe from the moment they are placed in the hair until they cool down and are removed. Curling irons can have electrical issues that could create problems while you are styling your hair with them.
Since the individual rollers in the hot set do not have electrical components, only the heating base could have electrical issues. There are no electrical parts that come in contact with the hair with hair rollers  – therefore, there are fewer chances of any damage being done to the hair.
The features of these products make them a desirable one. Some of them have clips that can be used with other styling tools. The tourmaline and ceramic technology protects the hair and the infrared and ionic technology actually improves the condition of the hair. There are very few, if any, arguments against buying a set of hair rollers. Even if you use them just a few times a year, you will get your money's worth.
How to Curl with Hot Rollers Without Damaging the Hair Ends
Use a hair roller that has ceramic, tourmaline, infrared, or ionic technology instead of a hot roller that does not have any combination of those features. All of these features are favorites of professional stylists because they heat hair from inside, rather than from the outside. By doing this, the ends are less likely to split and the hair is less likely to dry out from the heat.
Plug in your set and wait until the indicator system alerts you that they have reached their maximum heat. Prior to rolling up the hair, apply a heat protectant product on the hair, then rolling the hair up from the end to the root. Some systems actually come with Argan oil because it protects the hair very well. Then, roll the hair and clip the rollers in place.
After you have clipped the hair in place, set the rest of the hair by rolling and clipping until you have rolled all of the sections you want to be curled. Then, wait the recommended time until the rollers and your hair has completely cooled down. Your hair will not set until it has cooled.
As always, be sure that your hair is clean and moisturized before you place the rollers on your head. Some  will work well with damp hair, but most need to have completely dry hair. Read the manufacturer's instructions to see if you should have dry or damp hair.
There are also some brands that will heat faster if you use a blow dryer to add more heat. If you do this, do not leave the hair dryer on one section of hair for too long, or you risk doing damage to your hair. And, if you use a blow dryer to help set the hair, once you have use heat for the recommended amount of time, use the cool blast to put the final set on the hair.
Conclusion
Hot rollers are still around and they are still creating amazing curly hair that will last all day and even longer than that. They come with the latest technology with ceramic and tourmaline to protect hair from the heat. They also come with infrared and ionic technology to heat hair from the inside to prevent frizzy split ends.
They are available in a wide variety of prices, so you should be able to find a set that fits your budget. You can be purchase them online, in big box stores, and in beauty speciality stores.
Prior to choosing a set of the best for your hair type, consider what is best for your hair. There are hair roller sets that include between 12 and 30 rollers.
If you have massive hair, you will want more rollers, but if you have thin hair, fewer rollers will do. The type of clip you like should also influence your choice. Claw clips can be used in other ways, but the typical pin clip can only be used with hair rollers.
Once you purchase your set, have fun using them to achieve beautiful curls!
They can be used on all hair types, from long and fine to thick and short and everything in between.  Since they come in different diameters and lengths, it is best to use one that can handle your hair type, length, and texture. For example, long thick hair, requires fat rollers that are also long. thin hair that is short will do better with hot rollers for fine hair that are a typical length.
Have fine hair? No matter what the length, you should be sure that you do not overheat your hair. If your hair rollers set has different settings, use medium or low. If you have hard hair, use the highest setting.
They will work on short hair as well as long hair. You should still use a hair protectant and use a quality roller with all of the technology that hydrates the hair. You might need to use a smaller roller, simply because you do not have the length needed to fill the roller. Clip them in place and let the rollers cool, too.