Last Updated on
The word "guide" can be tricky. All of them proclaim to be the top-notch of the web. So what makes this the Ultimate Guide to Use Hot Rollers? That I will cover EVERYTHING related to them.
From the top hot rollers to buy to the answer to the most relevant and usual questions you have when it comes to these styling tools. Learn here how to use hot rollers to get magnificent wavy or bouncy hair. If you don't have them in your beauty arsenal yet, what are you waiting for?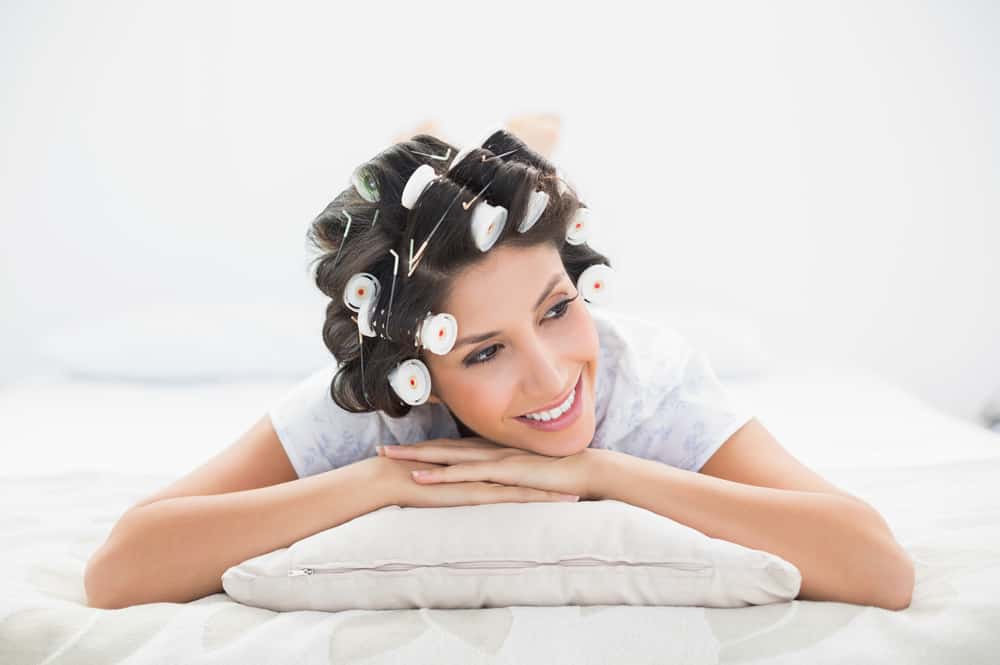 Best Hot Rollers – Comparison Table
Hot Rollers Buying Guide 
How do hair rollers work? 
Hot rollers are a modern version of the rollers our grandmothers used to use back in the day. They are more adequate for the fast pace life has now. In just a couple of minutes, you can change your style and be ready to sport a dazzling look.
Getting natural curls with normal rollers requires at least a night. Hot rollers, on the other hand, only requires a couple of minutes and some hair spray to keep their shape for a long time. The technology behind this incredible styling tool comes from the material the hot rollers are made of and the usage of heat.  
To shape your hair, roll it around the hot rollers, secure your tresses, let the rollers work their magic and remove them when they cool down. Once you take them off, you can separate your curls or let them tight, and spray them so they will hold their shape for the entire day.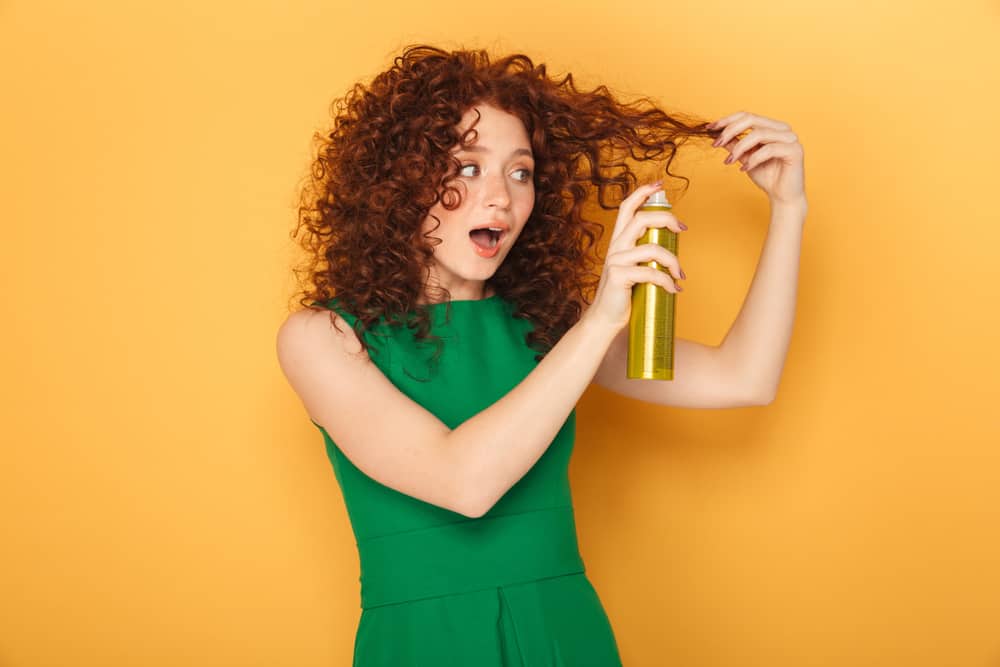 Types of hot rollers
One of the advantages of using hot rollers to curl your hair is that you can find a wide variety of them and pick the one that suits your needs the most. If you need a compact set you can take with you when traveling, you can get a small unit that comes with several rollers and, even, a traveling bag. If you want a set you can use all at once, you can get a larger one for home. 
Want to achieve different types of volumes and textures? Then you can also choose a set that has rollers with different sizes. Furthermore, you can opt for diverse heat technologies and materials. Almost every element that composes hot rollers can be modified to help you style your hair the way you want it.   
Hot rollers with an extra layer
You can find hot rollers with a velvety layer, which function is to give the hair extra protection and diminish the frizz effect.
Hot rollers with a textured surface
The hot rollers that have no extra layer can feature a ribbed or spiked surface to have a better grip on the hair.
Ceramic hot rollers
Hot rollers made of ceramic can give your strands a better finish and shine. This material enables the usage of infrared heat, producing ions, heating your tresses from the inside to the outside.
Wax core rollers
This type of rollers is filled with wax in the center, a quality that allows them to retain heat for much longer, making them more suitable for locks that tend to be difficult to tame and shape.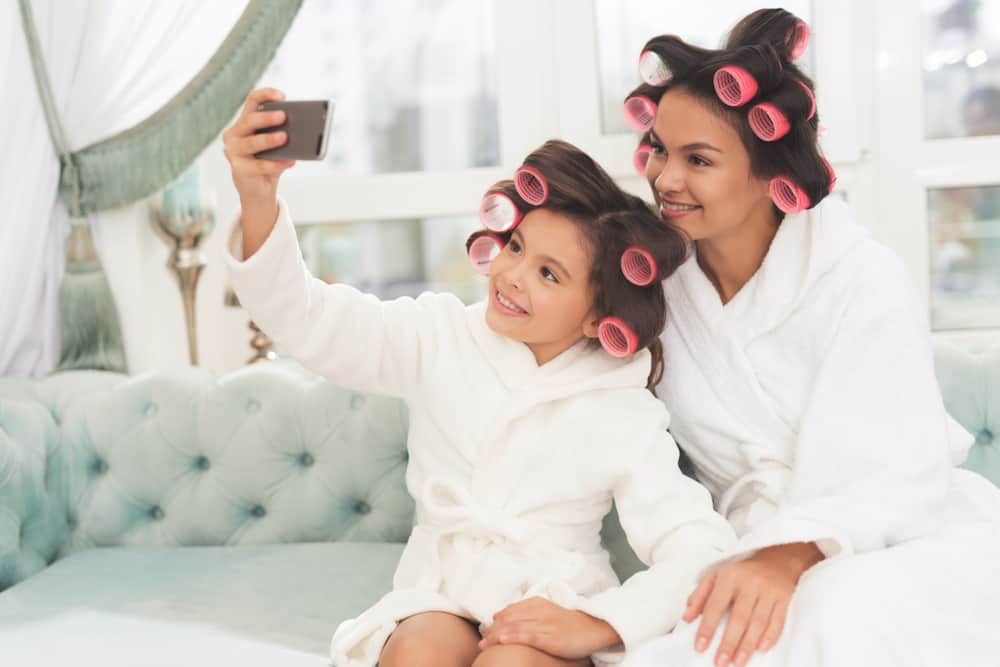 Heat Levels 
Heat levels are important because your hair can only take a certain amount of heat before burning. Now, don't be afraid: one of the main differences between a curly iron and hot rollers is that you can touch the rollers without burning your fingers. The heat technology that hot rollers use is safe and gentle to your hair.
Temperature settings
In fact, you can find brands that offer more than just one temperature setting. This is very convenient if you have fine hair or coarse hair because you can choose the temperature that better works for you.
PTC heating technology
The heating technology that the rollers use will have an effect on the temperature level too. PTC (Positive Temperature Coefficient) heating technology is safe because it uses ceramic, which keeps under control the internal temperature of the roller, avoiding overheating.
Steam heat technology
Steam heat technology has its perks too. This type of rollers doesn't use dry heat, but steam to seal in your hair's moisture. They prevent static and also gives you a shiny finish.
Size of the set
Compact set
A compact set is easy to carry around and it's ideal for traveling. It has a small heating unit, which is the one that usually takes more space. A small unit can only heat one roller per time, but most modern sets use technology that allows them to heat up a roller in a matter of seconds Compacts sets can have up to 10 rollers, although this amount can be less if the rollers are big.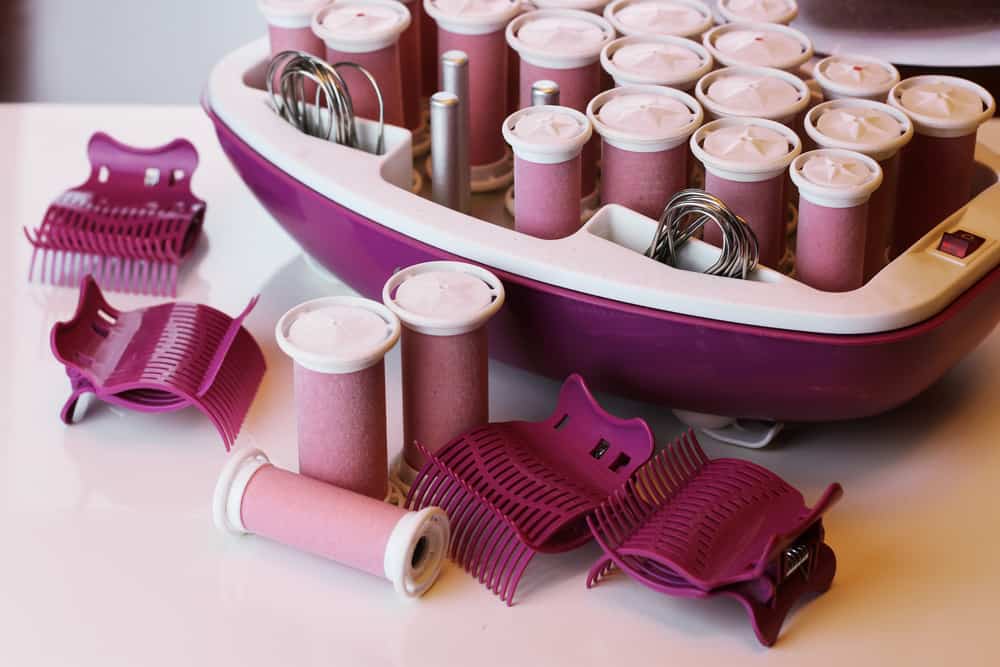 Full set
A full set can have up to 25 or even 30 rollers, but the number can vary if the rollers are jumbo or if the set features different roller sizes. It has a big heating unit that can warm up all rollers at the same time. Since they are big they are not considered travel-friendly, but that doesn't mean that you can't take them with you if you can make enough space in your luggage.
Materials
Plastic
Hot rollers made of plastic are good to style your hair occasionally. They heat up fast and tend to be cheap, so you can get results for a low cost. But I wouldn't recommend you to get a set made of plastic if you plan on using them frequently since plastic can damage your hair and will not resist a frequent usage.
Foam or sponge
Hot rollers made from foam or sponge are soft but porous, so they don't let hair slip away. They offer a certain higher level of versatility because you can obtain lighter curls or more tight ones, depending on the amount of pressure you execute when rolling your hair. They also heat up quickly and absorb more moisture, which means your curls can be done faster and last for longer.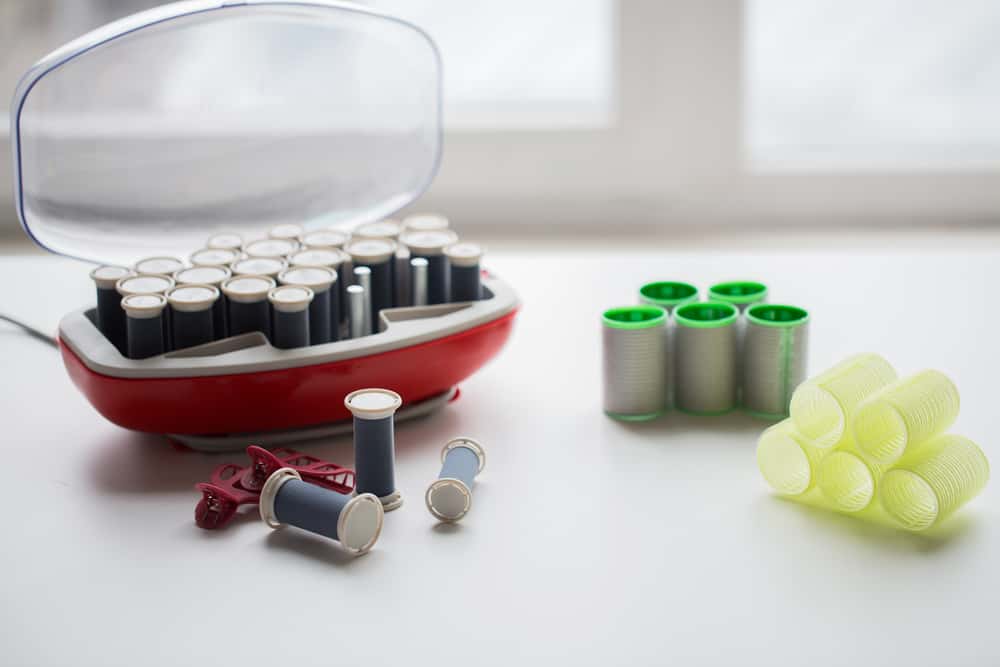 Ceramic rollers
Ceramic hot rollers are gently for hair and are your go-to styling tool if you already have wavy or curly hair or damaged locks. They emit ions, which seals your tresses' cuticles and locks in the moisture. They heat up fast, are less invasive and mold your hair while making it healthier.
Wax-filled center rollers
Wax core rollers are better for you if your hair is difficult to shape or is long. If your locks aren't usually well molded with other hot rollers, they will certainly be with these ones. They retain heat for longer thanks to their wax-filled center, meaning the heat can trespass multiple layers of hair. But they take longer to cool off and since you are supposed to take off hot rollers once they are cold, the ones made of this material takes longer to shape your curls.
Texture
Smooth surface
Some hot rollers have a smooth surface. They are easy to use when rolling your hair up, but can be a little tricky to keep in place because they can slide down. You will need to secure your hair with many clips or a big hair claw to keep the rollers in place. If you have curly or wavy hair, you should pick rollers with a smooth surface to avoid tangles.
Ribbed surface
Other rollers have a ribbed surface, which generates friction with your tresses, making it more difficult for them to get loose. If you have very thin and straight hair, you will benefit from using rollers that can offer some resistance, like the ones with a ribbed surface. 
Flocked surface
Rollers with a flocked surface are also good to keep the hair in place, which means they work well with straight hair. Velvet flocked rollers are also gentle with hair, avoiding breakage. Since they offer good resistance, you won't need to use many clips to avoid them from sliding out.
Sizes
As stated before, one of the best features of these styling tools is the level of customization. Not only you can choose from different materials or types, but also different sizes. 
Thin rollers for tight curls
You can either use them with small sections of hair, to have a head full of bouncy curls or with fuller sections, to have move volume. On the other hand, jumbo rollers are good to create loose waves or curls on really long hair. 
Rollers for short and long hair
You can also find short or long rollers. Short ones are a good option for you if you have short hair, while long ones are a good fit for long hair. There are brands that offer a set of rollers in only one size, but you can also find brands that have them with different sizes to allow you to personalize your style better.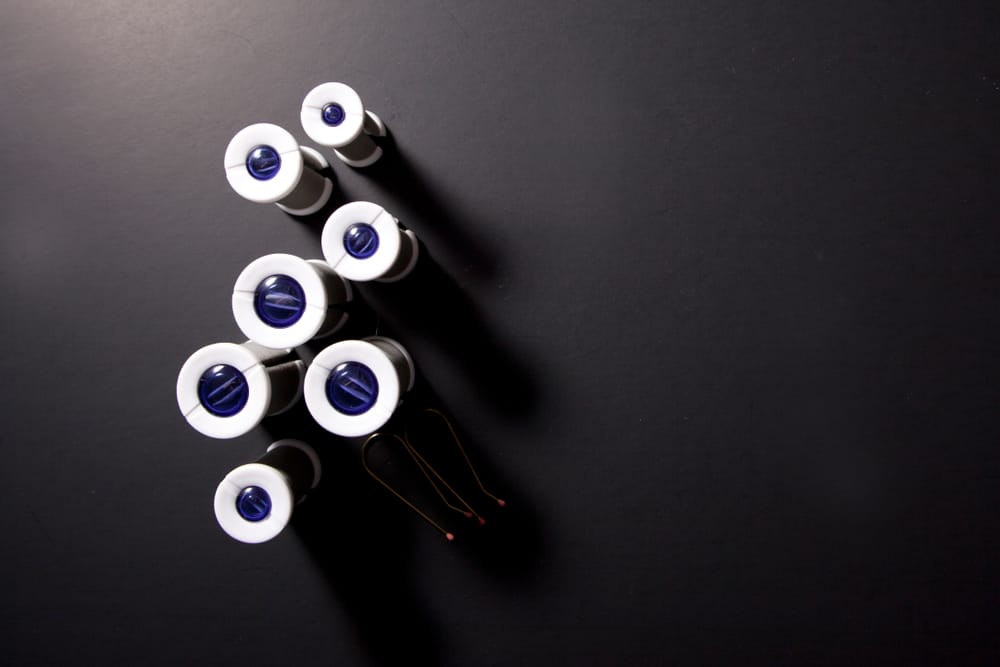 Small or big heating unit
The size of the heating unit is also relevant if you don't have too much space at home or if you are looking for a travel-friendly styling tool. Some units are small, but only allow you to heat one roller at a time; in contrast, other units are big and allow you to heat all your rollers at the same time
Different Rollers for Different Hair types 
Not having too much success using your current set of hot rollers?  You can feel your locks drying when you use heat on them? You might not be curling your hair correctly… or maybe your hair is just a little more difficult to style than other types of hair. Thankfully, hot rollers offer a wide range of options for a reason.
Fine hair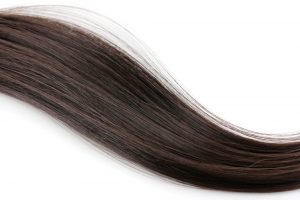 If you have fine hair, no matter if it's long or short, you will require a set that has different temperature settings and that is gentle with your tresses. That way, you can find the temperature that works best for you.
Coarse hair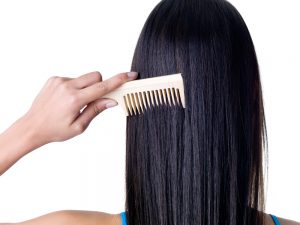 Coarse hair can be difficult to tame. It tends to keep its original shape and needs more time and products to adopt a new style. That's why you need a set that holds heat for longer, so the rollers can work their magic for long enough to shape your curls. Wax core rollers can do wonders for you.
Short hair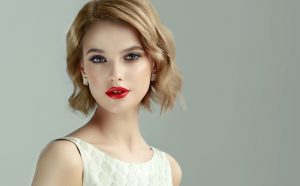 Short hair can be shaped faster because most of the strands will be in touch with the roller, receiving the heat directly. You should get rollers that are small, their width depends on the style you want to achieve. If you want texture, you should get thick rollers; if you want tight curls, get rollers with a small diameter.

Long hair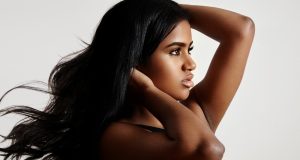 When you roll long hair around one of this styling tools, the layers that are further from the core tend to absorb almost no heat. So when you unroll your hair, the ends look great but the parts closest to your head look sloppy. You need big and/or long rollers that can reach the last layers, while protecting the first ones, like ceramic rollers with ionic and infrared technology.
Straight hair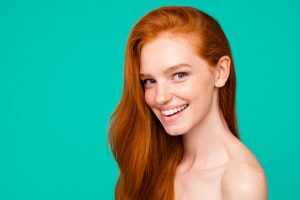 Straight hair can be challenging when it comes to styling it and trying to add some volume to it. Your best option for this type of hair is hot rollers that hold in heat for long enough to be able to shape your locks. For adding volume, jumbo rollers are a better option than thinner ones.
Curly hair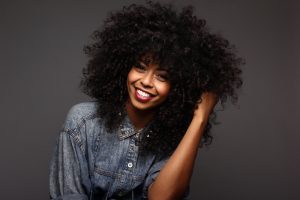 For curly hair, I would recommend you to choose a set that has different temperature settings and that is gentle with your locks. Curly hair can be easily damaged and tends to need moisturizing treatments to look its best, so steam heat technology can fit you well. Do you want to define your curls? Opt for a large set that has rollers in different sizes. That way, you can choose between wavy hair with volume or really tight curls.
Layered hair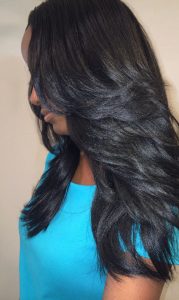 You need to be able to control the temperature, especially if you have a layered haircut because some parts of your hair will be longer than others, which means some rollers will have more or fewer layers of hair rolled around them. You should also get a set that features rollers in different sizes.
Colored hair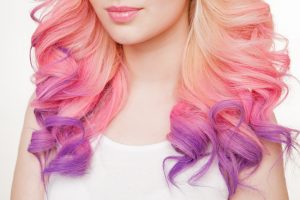 To keep your tresses looking good, silky and prevent your color from fading, you should use hot rollers that hydrate your hair while shaping it. Colored hair has an extra coat that covers each strand, making it difficult for your hair to absorb moisture, which is why your locks can look dry. Steam heat rollers are a good fit for you.
Damaged hair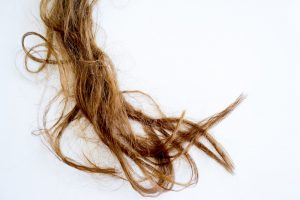 Trying to style damaged hair? If your ends are brittle and your locks look dry, steam heat rollers can do the trick for you. They will not only shape your hair beautifully but moisturize it and bring back its shine. Sometimes, damaged hair is so vulnerable that it can fry with heat. You won't need to worry about that using steam heat rollers.
Frequently Asked Questions 
How to use hair rollers anyway?
You might be wondering: "Okay, so I have my set now… how do I make this work?". Using hot rollers is simpler than you think. I will teach you, step by step, how to achieve luscious long lasting curls:
Don't spray your hair. You don't want hot chemicals on your locks.

It's better to start with dried hair instead of a wet one, to avoid damage.

Use a heat protectant, especially if you have fine or damaged hair.

Section your hair. Big curls will require bigger sections, and tighter curls will require smaller sections.

Instead of starting at the ends, do it at the middle. That way, you will be ensuring no pieces of hair stick out. The layers of hair will secure each other, giving the roller and extra hold.

When you roll your hair, don't roll it starting at the ends of the roller neither but also at the middle. 

Wait until the rollers cooled down to take them off.

Don't sit around waiting for the hot rollers to be cold! One of the main reasons why people don't get the results they are expecting is because they grow impatient. Go do your makeup, dress, and then check on your hot rollers.

Take them off carefully, following the natural motion of the curl.

Style your curls.

Apply hair spray so they will last for longer.
To show you how easy it is to use hot rollers to create voluminous and gorgeous curls, watch this video and get inspired!
Are hot rollers bad for my hair? 
So I'm an advocate for giving honest advice. It's no secret that heat is the natural enemy of hair, right? If you use heat on your hair on a daily basis, of course, your hair will get damaged. That's why I don't even recommend people to use hot air to dry their tresses. 
This being said: Can hot rollers damage your hair? Yes IF you use them daily. If you are planning on using your hot rollers every single day, you might as well think about getting a perm. Hot rollers are your go-to styling tool when you want to enhance your style, and the technology they use has improved so much that some sets actually make your hair healthier, like the ones with steam heat technology or ceramic. 
If you want to use hair rollers frequently, not daily but around 4 days per week, you can follow these tips to keep your locks healthy and stylish:
Never use hot rollers on wet hair.

Use a heat protectant.

Avoid using other types of styling tools, such as hair irons, hair dryers, etc.

Spray your hair when you have already removed the hot rollers.

Invest in hot rollers that are gentle with your hair.
How long should I leave hot rollers in my hair?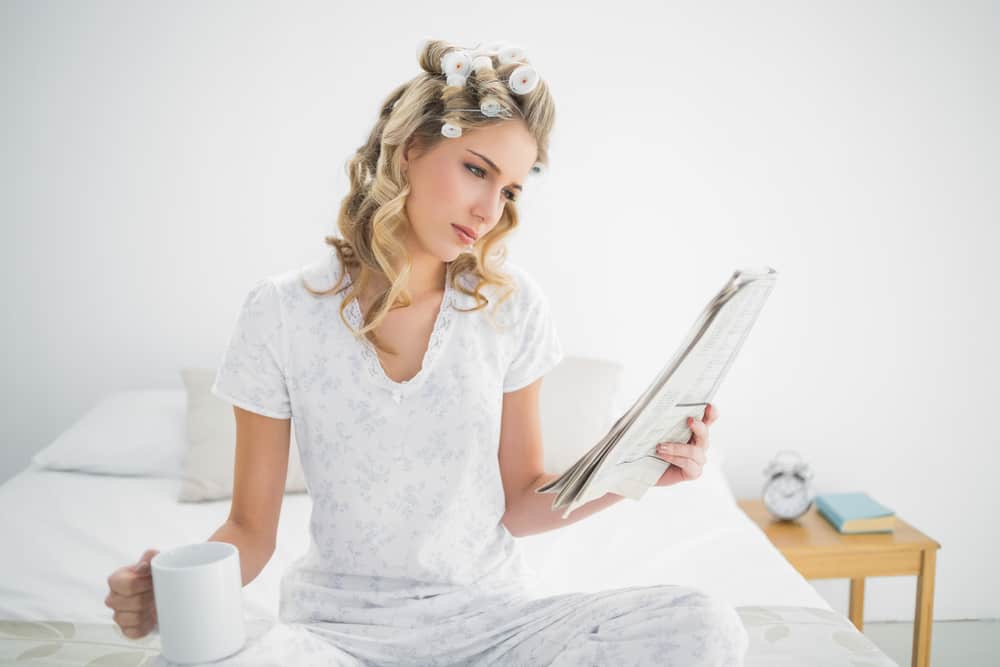 You have to remove your hot rollers once they are cold to the touch. This can vary between sets and brands. Some hot rollers are supposed to take longer to cool down, so they can shape the curls on long or coarse hair. 
It is safe to leave hot rollers on, so you don't have to worry about your locks suffering any damage. Like I told you before, some brands offer different temperature settings, which allows you to regulate the heat before you even put the rollers on. 
In average, they cool down in 20 minutes. It might seem like too much time but that's why you should put them on at the beginning of your beauty routine. We all know no woman is ready in just 5 minutes, so you can start doing your hair and let the hot rollers sit for as long as doing your makeup and dressing takes you. 
What type of hair rollers are the best?
Some brands are definitely way more experienced than others when it comes to heat technology, and I'm going to show you the top 5 soon. Apart from investing in a good brand, to find the set of hot rollers that work better for you, you need to think about your hair needs.
It all depends on your hair texture. Women with long hair will find ceramic rollers more fitting to their needs, while girls with coarse hair might love rollers with a wax-filled center. If your locks have seen better days in the past but hair dyes, perms, flat irons, and other aggressive elements have weakened your strands, then rollers with heat steam technology will make all the difference in the world to you.
Do hot rollers give my hair more volume?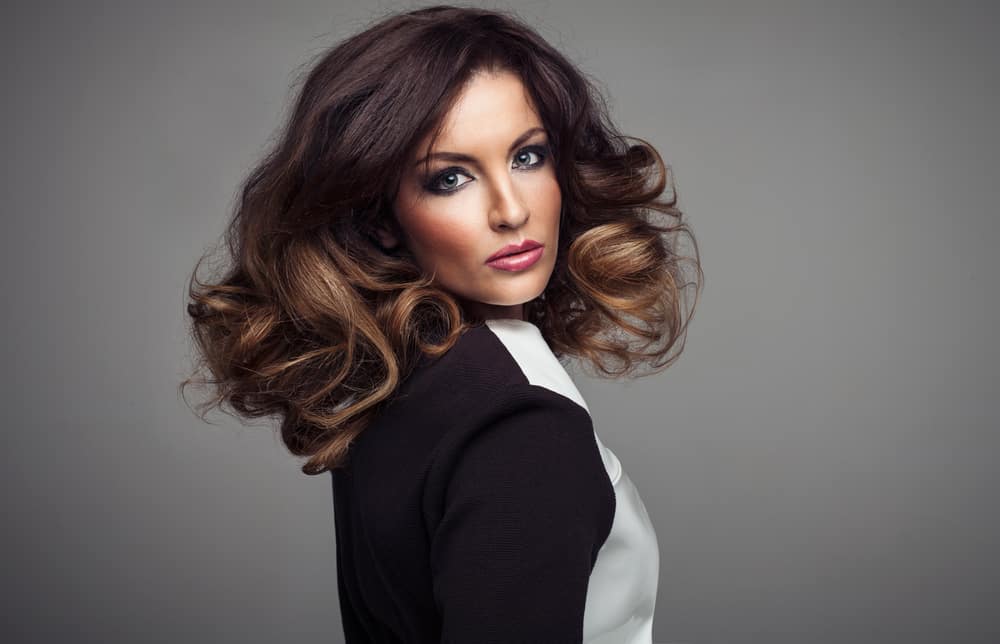 Yes, hair rollers can give your hair more volume if that's what you want. They are not only amazing styling tools to create tight curls but can make your fine hair gain more dimension. You can use a set of jumbo rollers to create big waves. Instead of tight curls, you will have tresses that will look fuller.
Here is a step-by-step guide on how to use hot rollers to give your hair more volume. This will be especially beneficial for you if you have fine, flat or frizzy hair and want to shape it:
Start with dry hair so the effect will last longer.

Use a heat protectant.

Select the biggest rollers from the set you have.

Part your hair in big sections. If you part it in small sections, instead of loose waves, you will have curls.

Roll your hair.

Secure with a clip instead than with a pin, since pins can leave marks on the hair.

Let the rollers cool down.

Take them off.

Brush your hair with your fingers. Using a comb or brush could make your hair frizzy or flatter.

Once you have shaped your hair with your fingers, spray it.
Achieving more volume with hot rollers is easier than with curling irons. The greatest advantages are that you style all your hair at once and that you can always vary the results.
 Does roller sets make my hair grow?
I want to be very clear about this: you cannot roll your way to waist-length hair. To promote hair growth, you have to follow a routine that can comply with your individual hair needs. Usually, these routines involve more than rolling your hair, but using essential oils, specific hair products like shampoos without certain types of chemicals, using deep moisturizer weekly, and more.
So no, hair rollers cannot make your hair grow. So why is there this common belief that they can promote the growth of natural hair? Natural hair is very delicate and requires more maintenance than other hair textures. Aggressive styling tools like hot irons, relaxers, perms, make your tresses brittle. Once you stop using those beauty tools and switch to hair rollers, you will notice your hair is healthier because rollers are much more gentle.
This happens for all types of hairs, actually. Instead of using curling irons, hair straighteners, and others, give rollers a chance to shape your hair without damaging it. If you cannot just use rollers overnight and need something more time convenient, opt for hot rollers. In fact, the rollers that use heat steam technology are quite good for dried hair and can shape it while moisturizing it at the same time. 
Can I use hot rollers on wet hair?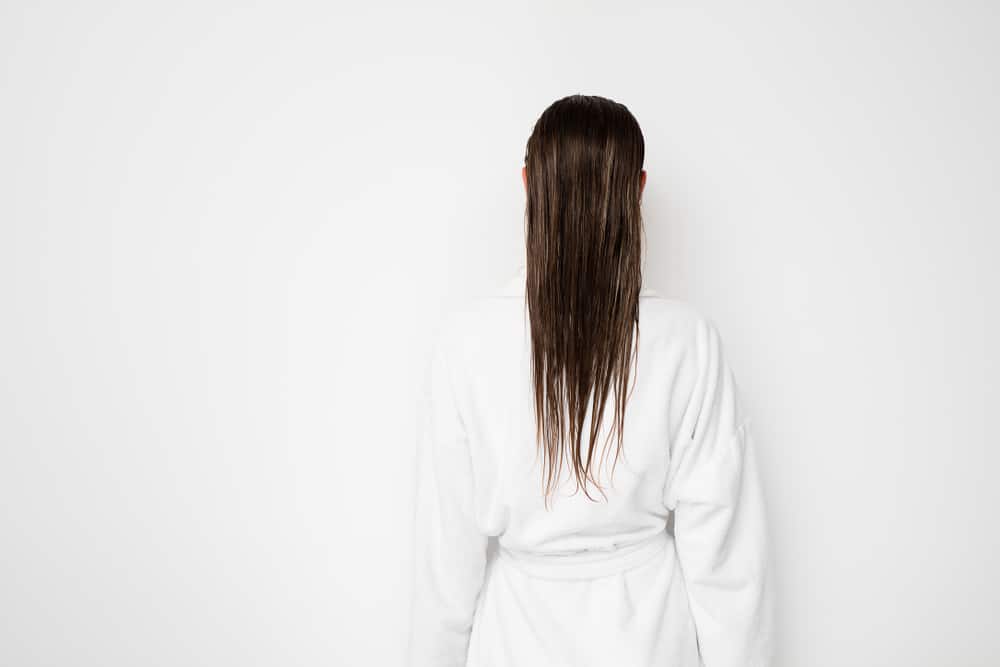 No, you can't use hot rollers on wet hair. I mean, you can, if you want to fry your strands. But if you want to benefit from the top-notch technology that these rollers now use, I recommend you to use them always on dry hair.
The main problem with styling your hair, using any type of tool, when it is wet is that your tresses are more vulnerable when they are soaked in water. There is a whole scientific base that explains why wet hair is weaker than dried hair, the short explanation is that hair can stretch when it is wet, but cannot go back to its original form, so the cuticle deforms. The cuticle is the armor of the hair and, when deformed, it doesn't protect your strands anymore.
Since it cannot protect your tresses from external damage, hair is exposed to breakage. That's why if you use hot rollers on wet hair, you will damage it.   
Can I use hot rollers on damp hair? 
Nope, it's not a good idea neither. Both water and heat are the natural enemies of hair, combining them will only potentiate the amount of damage they can create. Although there are hot roller sets that use heat technology that protects your hair and even makes it healthier, you shouldn't take any chances when it comes to damp hair. 
Let it air dry. After all, damp hair can dry faster than wet hair. Once your hair is dry, use a heat protectant and style your hair.   
Top rated hot rollers
If you have no idea what hot rollers to purchase, here are my top 5. The criteria I used to choose them is based on the prestige of the brand, something relevant to take into account if you want a guaranteed product; the heat technology, very important since heat is the element that revolutionized the hair rollers industry; reviews from other women who had a positive experience using these rollers; and affordability.
1. Caruso Professional – Best Overall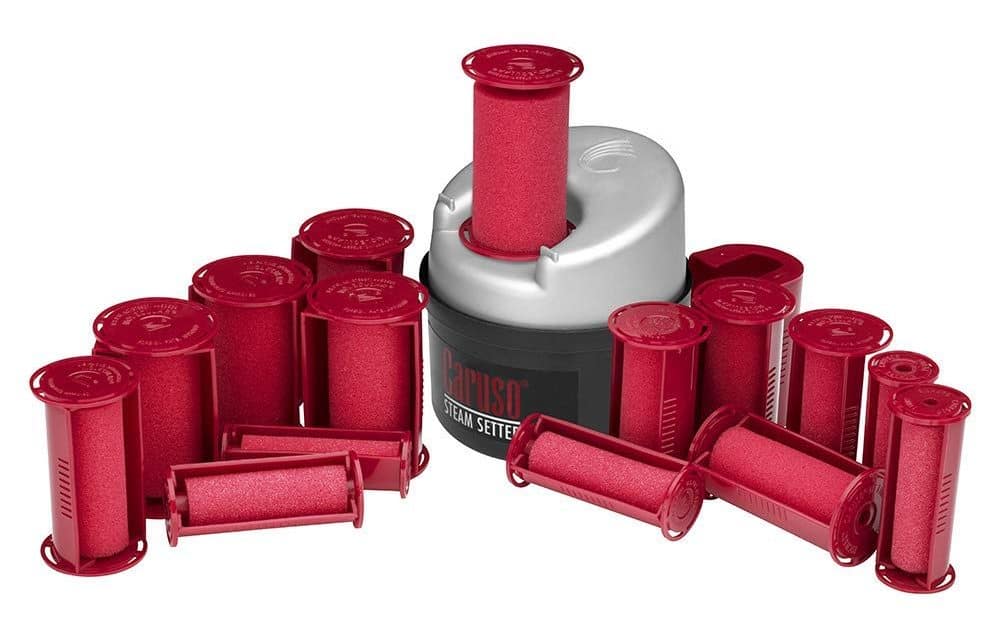 Perhaps you might think that curling all of your hair with Caruso Professional Molecular 30-Piece Multiple Size Steam Hair Setter could take longer because it can only heat one roller per time, but the device is so effective that it only takes seconds to heat them up.
It features the amazing quantity of 30 rollers, all in different sizes to allow you full control over your curls. It has six petite rollers, six small rollers, six medium rollers, six large rollers, and six jumbo rollers. The smallest roller's diameter is 0.5 inches, while the jumbo's one is 1.5 inches. But, since the surface of the roller is made of foam, you can actually personalize your curls and make them even tighter.
Since it uses steam technology, its the ideal set for women with damaged hair. You will see the results when you take the last roller off: shiny and bouncy locks will salute you! The steam is a great factor that contributes to moisturize your hair and make it healthier.
And don't worry, the set won't run off of water while you are using it. Do make sure to empty it from the water you won't use anymore.
To get even longer lasting curls, just place the clips on the heating unit before using them to secure the rollers. Make sure to wipe any remaining water drops before placing them.

---
2. Conair Xtreme Instant Heat  – Best for adding volume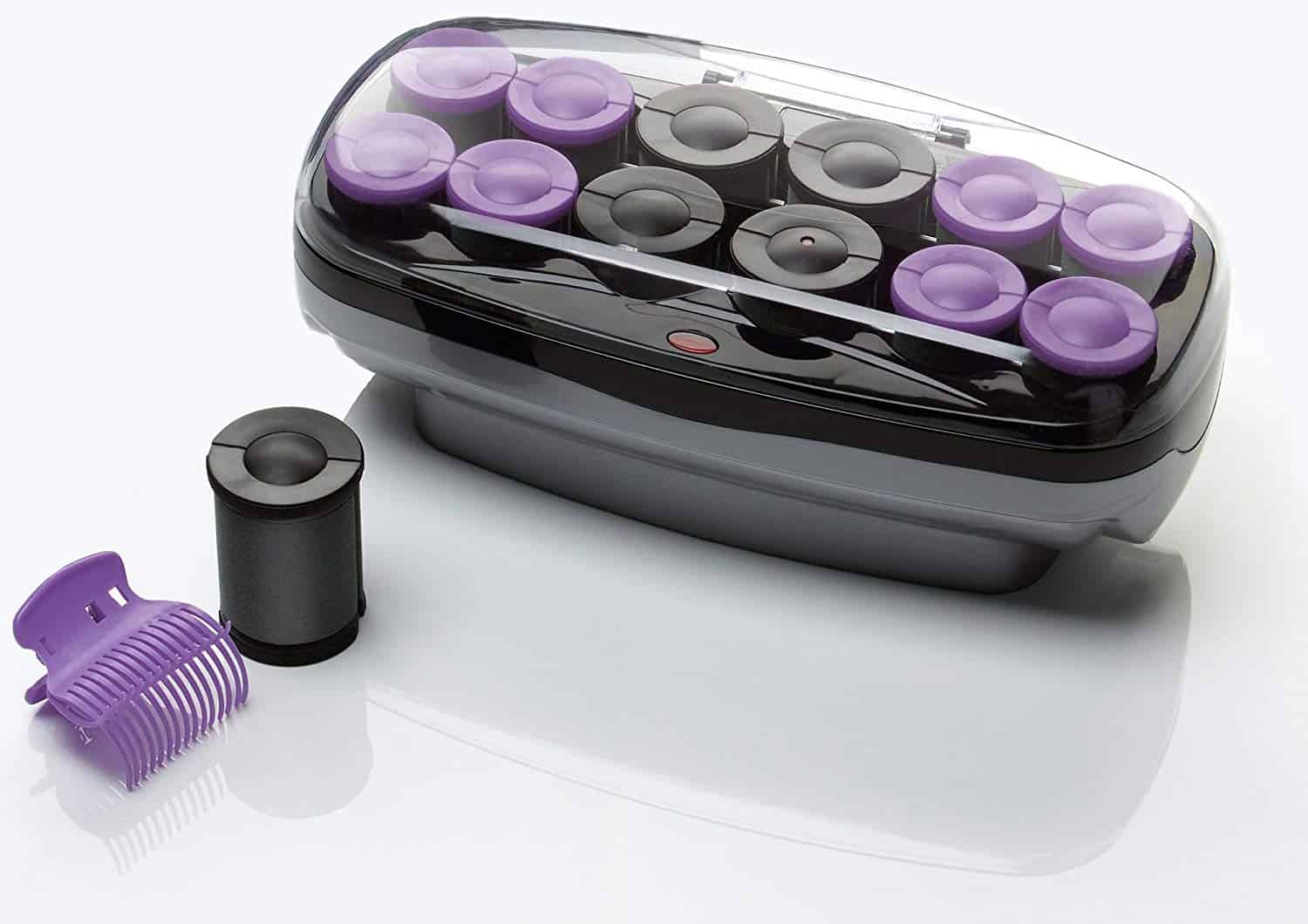 Conair is definitely a leading mark in the hot rollers department, owning Babyliss too, and it offers a range of sets that approach hair needs differently. If you are a girl with long hair that is tired of frizz, flatness and wants to add volume to her everyday style, this is the set for you.
Conair Jumbo and Super-Jumbo Hot Rollers is the ideal set to make your hair fuller. It features 12 ceramic rollers with a flocked texture, more than enough to cover all of your hair. To obtain the ultimate volume, this set comes with four 1 3/4-inch super jumbo rollers and eight 1 1/2-inch jumbo rollers. It also has big clips that don't mark the hair, to maintain each roller in its place.
It uses ceramic-infused technology, which allows the rollers to be ready to use in just 85 seconds. This set gets very hot very quickly, so I would not recommend it to women with fine hair. Even though it uses ceramic and has a flocked and soft surface, fine hair would do better with a set that offers different temperature settings.
This is the right set for women with long and thick hair, who usually have trouble adding volume to their style or who have a personal vendetta with frizz. If that's you, then you will appreciate the potency of its heat technology.

---
3. Remington Ionic Conditioning Hair Setter – Best for coarse hair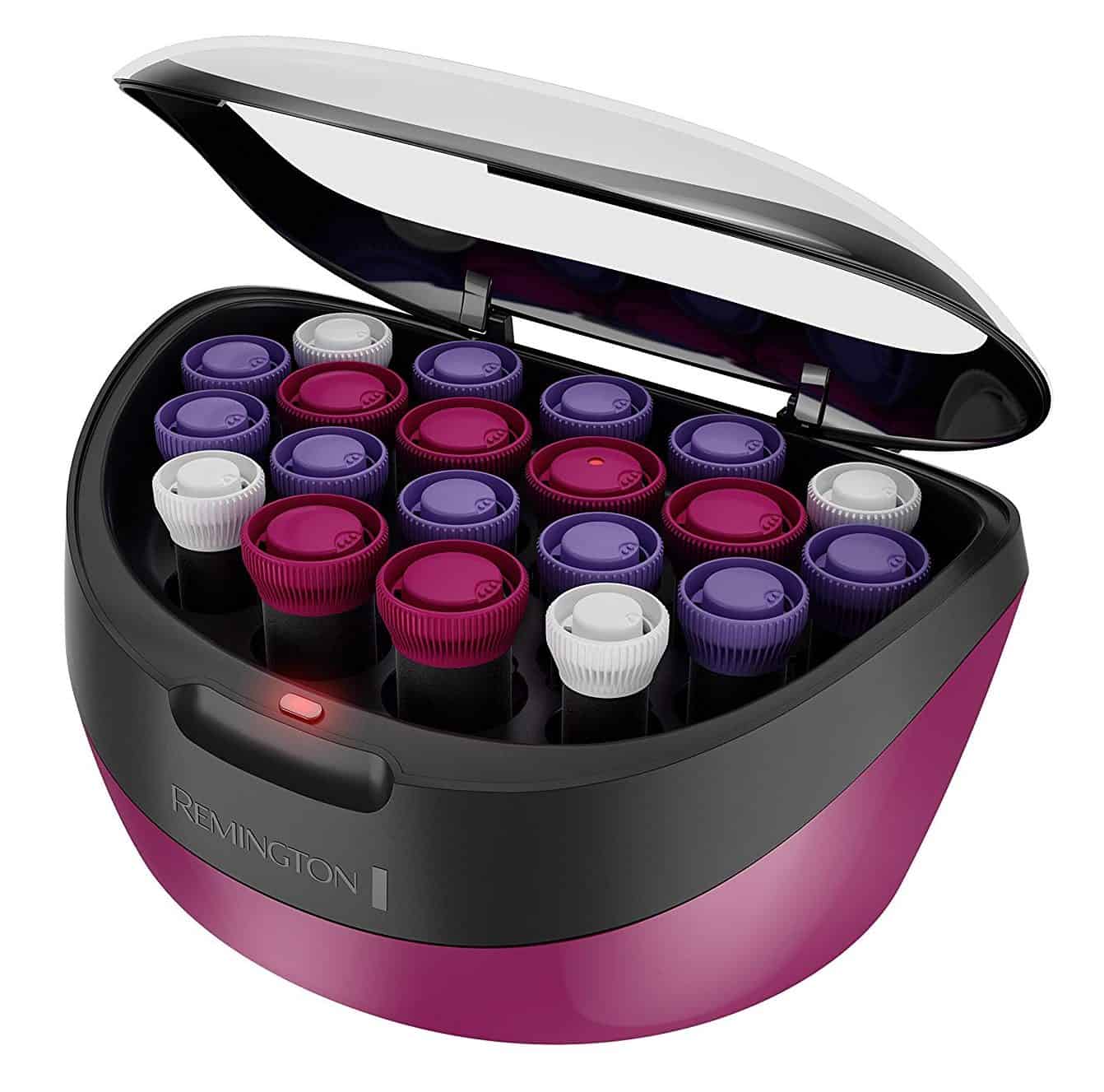 Remington is another well-known brand with a remarkable position in the market. It has been producing styling tools for the last 80 years. One of the sets that I like the most from this brand is Remington Ionic Conditioning Hair Setter, ideal for women who love versatility.
This set comes with 20 rollers, all of them with a velvety to the touch surface. The rollers and clips sizes are classified by color, so you will be able to match them easily. It has four 3/4-inch rollers, ten 1-inch rollers, and six 1 1/4-inch rollers. The set is quite big, so it will occupy space on your dresser.
This set uses thermal wax core technology, which means it will hold in heat for longer than other hot rollers, perfect for people with rebel medium length hair and/or coarse strands. It has ionic conditioning, a perk that will diminish frizz and add more shine to your locks.
Really long hair will find these rollers spectacular too since the thermal wax core stays hot for long, penetrating each layer of hair.


---
4. Revlon Curls-to-Go – Best travel hot rollers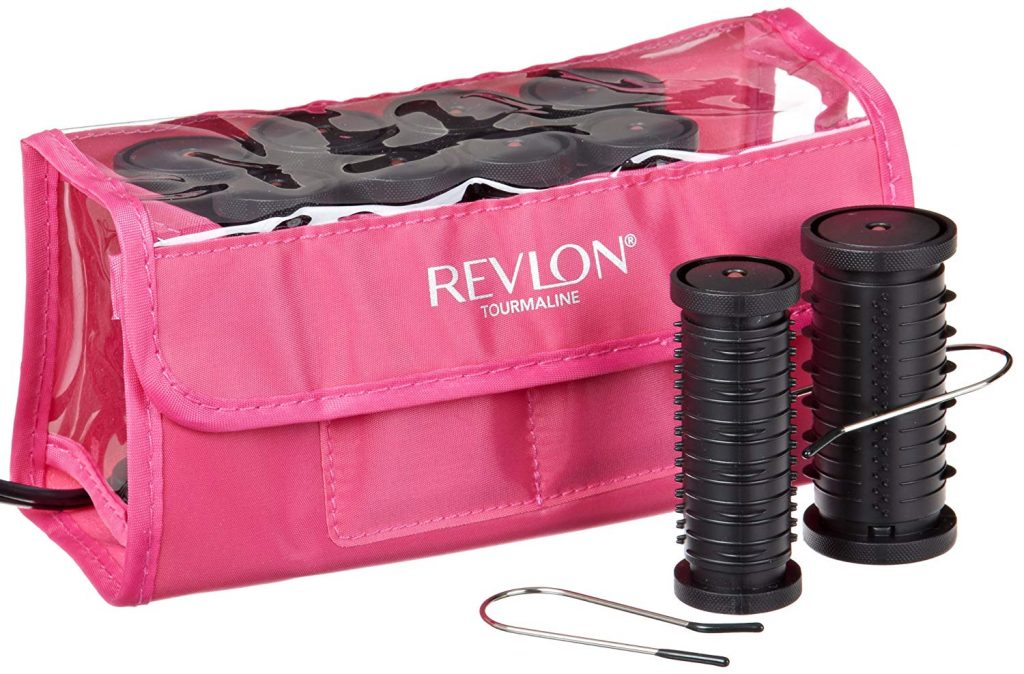 You don't have to abandon your beauty routine when you travel, you just need to carry travel-friendly styling tools, like the Revlon Curls-to-Go 10 Piece Travel Hot Rollers. There is nothing better than this set to glam up when you are discovering new places.
It comes with a cute and convenient travel pouch and a small heating unit. It also counts with dual voltage, allowing you to plug it in in any part of the world. Since it only weighs 1.2 pounds, it won't add up weight to your luggage.
It features 10 rollers, five 3/4-inch rollers and five 1-inch rollers. You will know when they are ready to use because each roller has a dot at the top that turns white when they are hot enough. They don't get super hot though, which is good for fine and delicate hair, but not all that convenient for long or coarse hair.
But, if you want loose curls instead of tight ones, then go for this set now. It uses ionic technology, which makes your locks smoother and showers them in shine, cooperating to reduce the frizz.

---
5. Calista Tools Ion – Best rollers for long hair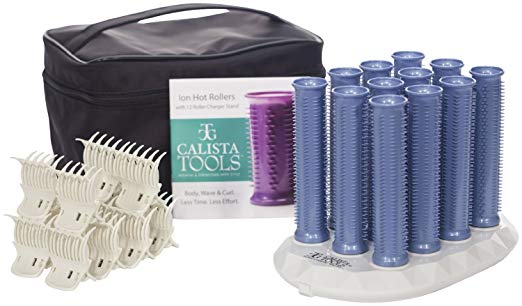 My girls with long, long hair, here is the perfect solution for all of you. No more complains about how only half of your tresses curl while the other half remains unaffected, this set is specifically designed to shape all of your hair. Since these rollers are long but small in diameter, girls with short hair can use them too to mold wavy or tight curls.
It features rollers in only one size, with 1 inch of diameter and an incredible 5 1/2 inches of length. This set uses PTC heating technology, heating up from the inside, and remaining hot for 20 minutes straight.
It also involves infrared rays technology, as well as multi-element mineral powders, which makes this a suitable option for long, colored treated and damaged hair.
The only issue you might encounter when using these rollers, that are also more expensive than the other four mentioned before, is that the hair claws are not as large as the rollers. The spiked surface does give your hair an extra hold though.

---
This was The Definitive Guide to Use Hot Rollers. If you have any more questions that I haven't addressed already or if you have some doubts about your hot rollers set and how to use rollers to create magnificent and bouncy curls, please write to me in the comments below.