Last Updated on
A good brush can make a huge difference in your hair and its aspect. It can determine if you will walk out of your house with a soft and luscious mane or with an untamable frizzy bush on top of your head. In this post, I will cover a wide spectrum of hair textures so you can learn how to choose the right brush for your hair type and achieve the look of your dreams since the moment you start detangling your strands.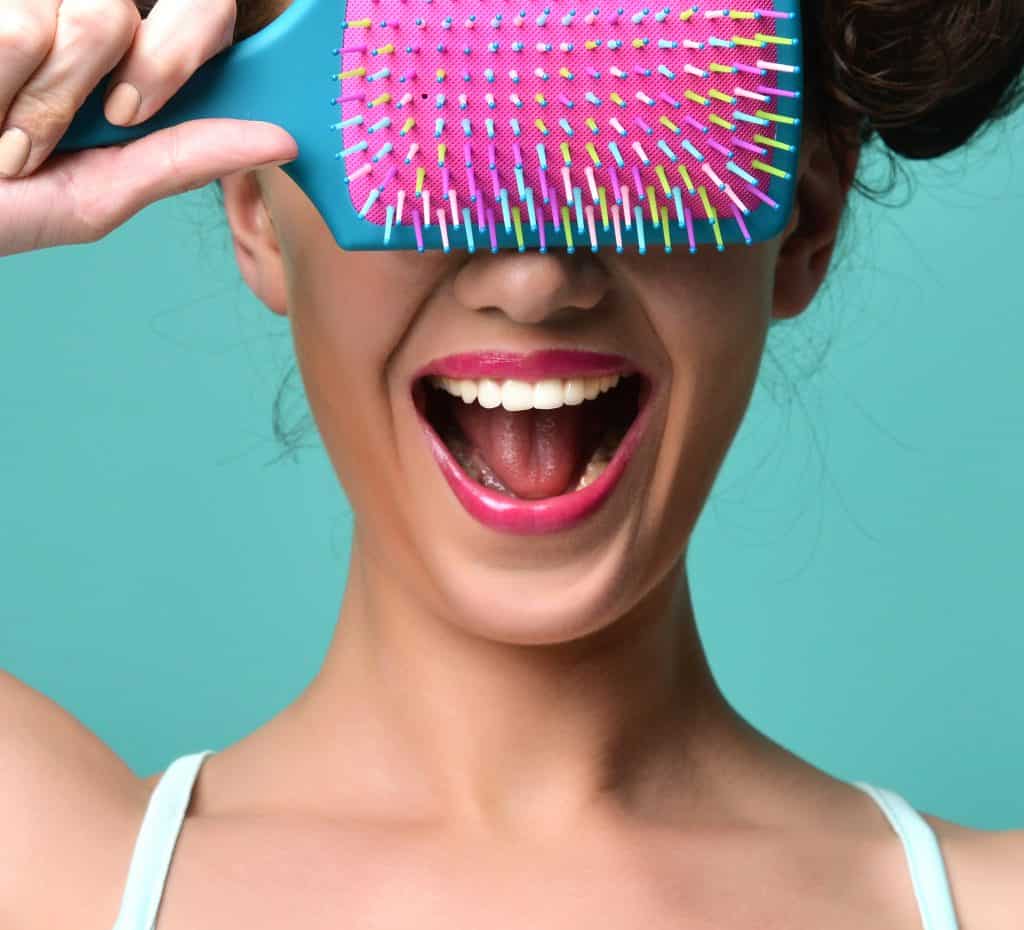 For straight hair
Straight hair is usually easier to brush because it doesn't tend to tangle as much as other hair textures and it tends to be softer as well. A paddle brush will be your best option if you have straight hair because it has multiple teeth and it will cover more area. The various teeth make it perfect for detangling purposes and, since it is a big brush, you won't need to pass it too many times over your hair, which means that you will decrease the friction effect and shed less. You can also use a narrow tooth comb to make sure your hair is very well detangled and the natural oils from your scalp are well distributed all over your strands.
For wavy hair
If your hair is a hybrid between straight and curly, then a brush with a ceramic base will be perfect for you. Frizziness is your worst enemy. To defeat it, use this type of brush and make sure it has wide teeth. It will concentrate the heat better and reduce the static when you pass it through your strands and give you a nice polished look.
For curly hair
Curly hair is its own world. You can find fine or coarse strands, really tight curls or more loose ones, it can tend to be dry or get oily easily, you can have frizzy hair or heavily weighted curls. How to brush or comb curly hair should have its own post but, now, I will let you know some general insight you can apply to know what tool to choose. First of all, you can benefit better from combing than brushing because the brush makes the strands go in different ways instead of guiding them in one direction, which causes greater friction. The best material for you is anything BUT plastic or metal. The teeth of the tool you use need to be wide so your curls will not deform but be nicely shaped and detangled.
For thin hair
Thin hair tends to accumulate more electrical charge. You might suffer from the static effect just in the worse cases, like when taking a photo, when leaving your cozy home to go out to the cold street or even when combing your hair in an effort to tame it. The best comb for you is one made of wood and with narrow and short teeth. You don't want to use anything plastic and God saves you from metal brushes.

For thick hair
The best brushes for thick hair are the ones that have boar bristles because they will make your hair extra shiny. Their natural bristles will help you distribute the natural oils from your scalp through the entire hair strands equally and will also reduce the frizz effect. You can also give as many strokes as you need with this type of brush because it will not damage your hair as a synthetic brush would.
For coarse hair
Coarse hair, for straight, wavy or curly hair, requires a brush that can face them without chicken out. You will benefit from using a brush that has strong nylon bristles. Forget about boar bristle brushes because they will not be able to tame your mane.
For treated hair
Straightened hair
If you have ironed your hair or chemically treated it to be straight, then you will make a really good use out of a round boar bristle brush. It will be the best addition to your arsenal of hair tools because it will allow you to maintain your look easily over and over again. I have a specific and complete guide about round brushes so you will know which will be more useful for you and gentler with your hair. If you think this type of brush is too difficult to use for you, I also give you a practical step-by-step guide so you can now my personal tips and techniques to master this useful tool.
Bleached or colored hair
You need a brush that will be gentle with your hair strands since they have been through chemical processes that made them weaker. The best for you would be to choose a comb or brush made of natural bristles to reduce the friction effect. You can also use a brush which sole purpose is to detangle hair fast and easy, so the number of strokes you will need to do to style your hair will be less. You could also use a brush that will give you an extra mix of oils to moisturize your hair while you are brushing it.
For wet hair
How many of us don't like to save up time and brush inside the shower or when we are right out of it? The truth is that our hair doesn't like it that much. When wet, hair is more prone to breakage. Since it is more vulnerable, the best thing to do is to reduce the amount of friction we execute over the strands. The other thing to avoid is to execute too much resistance against the knots the hair can have, so a wide tooth comb will allow you to detangle your hair without breaking it while you are in the shower.
For kid's hair
If you have small kids at home, you should be looking for a set of brushes/combs that are both resistant to detangle and clean the hair strands and soft to remove the cradle cap. You can really benefit from a set that includes a wooden brush with wide tooth and a brush with more narrow bristles.
Now you can choose the right brush for your hair type and satisfy its needs. A brush or a comb are the most basic tools you should have in your beauty kit, so make sure they are the right ones for your hair type and that they are made of from a nice material that will help you maintain the shine and the health of your hair strands.