Last Updated on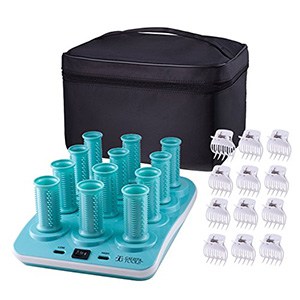 In today's fast-paced world, everything needs to be done quickly. That includes getting your hair to that perfect curly or wavy style that is so popular!
It's a common conundrum in today's busy world: You want tight, bouncy, youthful curls. Or maybe you want glamorous, seductive waves.
But who has the time to put together those hairstyles?
With the Calista Tools Ion Short Style Set, that time is cut down to a more manageable length! In only a few minutes, you'll be ready to put the rollers in your hair, to create the look you're striving to accomplish.
To make sure that your rollers are ready to go, you can just take a quick peek: The dot on top of the rollers will turn red, getting rid of any doubts you may have! You're three minutes and a quick glance away from beautiful, beachy waves, or quaint, peppy curls!
Another good perk of the Calista Tools Ion Short Style Set is its relatively small size. Space is increasingly at a premium in today's world. Whether you are living in a dorm room, and have to keep your hot roller set tucked away in your shower caddy, or you just have to share counter space with a special someone or roommate, this set is the perfect size to be tucked away in the smallest areas.

Do you have to travel, and want to take your favorite hairstyle on the road? This is great for that, as well. It will fit in your suitcase or backpack, and weighs so little that it will be scarcely noticed!
Hotter Rollers for a Hotter Hairstyle
The most important part of the Calista Tools Ion Short Style Set is the technology that it employs in how it heats and holds it temperature.
Unlike other hot roller sets, it doesn't just heat up the rollers in the base. Instead, the heating element is found inside of the roller itself. That means that the heat will travel with the roller, instead of being left behind in the base! That heat will help style your hair faster, and will keep the style lasting long after others have fallen flat.
It will also allow for faster heating in general, so that there's no long wait for your hair rollers to become hot enough to use.
But the heating technology doesn't end there! The rollers are specially crafted using ion technology. This technology is used during the roller's casting, infusing the roller with special mineral powders to help it hold heat in a more efficient manner. For those looking for the fastest option in hair curling, this is it!

Small in Size, Big in Style
Space is at a premium for most people. That's why so many products these days are changing, to be smaller and easier to store. The Calista Tools Ion Short Style Set is a great choice for this very reason. It offers a lot of beautiful curls for very little counter space. It's easy to just tuck it beneath the sink, in a shower caddy, or even just beneath your bed! Perfect for apartments or dorm rooms.
Traveling is also another big part of today's world, and something that beauty products and tools have to contend with. Not everyone can pack a huge, full-size set of hair rollers. But that isn't a problem with the Calista Tools Ion Short Style Set! Weighing just three pounds, it's lightweight and packs easily.
Specifications for the Calista Tools Ion Short Style Set
Heats in as little as three to five minutes.
Is small enough for travel or easy storage, and weighs just three pounds.
Has twelve rollers.
Comes with a carrying case.
The Good and the Bad
The Calista Tools Ion Short Style Set is, generally, considered to be an excellent choice in hot roller set. Most agree that it's a very wonderful beauty tool, and one that is perfect for everyday use.
However, there have been a couple of problems: The rollers are heavy, and the clips don't always work well, particularly in thin hair. This can lead to the rollers falling out. If that's a problem, then you can add a few extra pins.
The Calista Tools Ion Short Style Set is a great choice of hot rollers for anyone short on time, but who want high fashion. The small footprint, combined with the quick heating time, make this a convenient option for those who want the absolute best.