Last Updated on
Don't let your beautiful golden mane become a yellowish mess. You colored treated your hair a certain shade because you liked that color and that's the one that fits you better. If you have balayage, ombre, highlights or a full blond head and you want to maintain that specific blond on you, then you need a purple shampoo. In this post, I will walk you through the best purple shampoos for every specific need your blond hair has.
Why do you need a purple shampoo?
It's very simple. In the color wheel, you will notice that purple and yellow are opposites to each other, meaning that they cancel themselves. The purple pigments in the shampoo are the ones that help to maintain your blond shade as good as when you left the salon. Some purple shampoos are sulfate based and are not a very good option for curly hair or can't be used regularly… that's why I have this purple shampoo guide for you! So you can know which purple shampoo will fit your hair needs the best.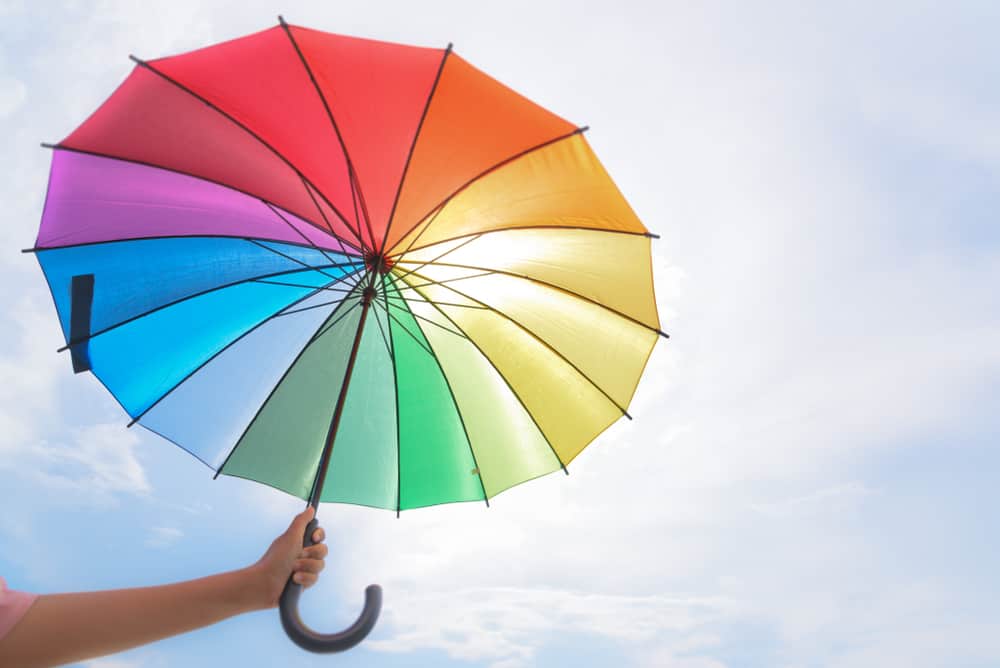 To fix your hue
Clairol Professional Shimmer Lights Blonde & Silver Shampoo
This is an old favorite and has been on the market for quite a while. I bet you will find it in any other purple shampoo guide. It works wonders on platinum and silver hair. So, if you want to refresh your icy shade on a budget of as little as just 10$, then this shampoo is the one you have been looking for.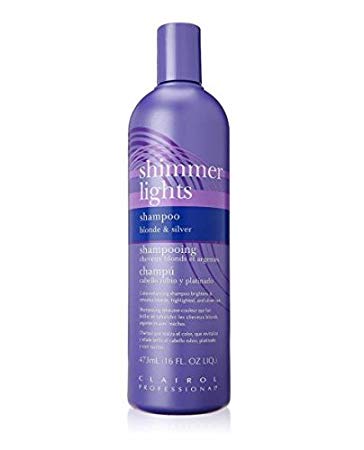 Provoke Professional Hair Care Touch of Silver Brightening Shampoo
Another great option to correct your grey hair on a budget because it costs less than 8$. If you have a platinum hue, you can benefit from this shampoo too. Something great about this shampoo is that it has a soft formula so you can leave it on your hair for longer than other purples shampoos without worrying about getting some purple shades on your strands.
R+Co Sunset Blvd Blonde Shampoo
This is the type of purple shampoo that you can use if you have curly hair and want a hair tool to use on the week to correct your hue without drying your curls. Its formula is sulfate free and light so you can actually use it as your regular shampoo without being afraid of over toning. It is a little more pricey than others since it costs 29$ but it is worth every penny.
L' Oreal Paris EverPure Blonde Shampoo
This shampoo is made by one of the most reliable brands on the market and it has one of the lowest prices: less than 7$. It is preferable to use it only once a week because its formula is strong enough to neutralize brassiness with just one cleanse and enhance blond tones.
Joico Color Balance Purple Shampoo
This shampoos is effective against brassy oranges and will be your best ally to defeat frizziness. It has a really potent formula for just 14$ and can be used once a week. Do not let it sit for too long on your hair it could dye it.
dpHUE Cool Blonde Purple Shampoo
To refresh your blond, grey or white hair, use this shampoo. If you notice a yellowish tone that is not supposed to be coloring your icy strands, use this shampoo since it is very good at neutralizing yellow tones on light hair. It is a little more expensive than the others on this list since it cost around 34$.
OGX Lavender Luminescent Platinum Shampoo
If you start noticing your hair color is slightly different, then this lavender tinted shampoo is for you. It works its best when it is used to correct the first signs of brassiness on blond hair because it is light, gentle to your hair and moisturizing. It has UVA/UVB sun-filters as well, which makes it ideal for the summer. Your hair will also smell like nature since its formula has lavender oil and chamomile extract. How much does this shampoo costs? Less than 6$.
Lush Daddy-o Purple Shampoo for Blonde or Grey Hair
Are you a blonde or a grey-headed vegan? Then Lush Daddy-o Purple Shampoo is for you. Lush do not test their finished products on animals nor purchase products from animal testers suppliers. They make sure to offer you a shampoo that is free from animal abuse and that has the best natural ingredients and the safest synthetics in its formula. You can acquire this vegan shampoo for 40$.
Purple shampoos with gentle ingredients
IGK Instafamous Blonde Shampoo
Some purple shampoos have a harsh formula that can dry your hair and that can't be used as a regular shampoo but more like an occasional tool to correct your hue. But not the IGK Instafamous Blonde Shampoo. Its formula is compounded by coconut acid, which helps to get easily rid of product buildup and grease without vanishing your shade, and a mix between bergamot, lemon zest, mimosa, and amber leaves. The perfume this shampoo leaves on your hair is incomparable. You can find it for just 20$.
Oribe Bright Blonde Shampoo
A shampoo made to cancel brassy orange tones. Its formula is gentle with porous hair that has been damaged by coloring treatments. You can use it daily to fix your tone and to make your hair healthier since it is sulfate and sodium chloride free. Its formula contains ginger root, chamomile extract, purple orchid extract, coconut, and corn-based cleansers. You can find it for 46$.
Sachajuan Silver Shampoo
Apart from correcting yellowish tones on silvery or ashy blonds, it is also effective to correct brassiness on redheads. Sachajuan Silver Shampoo can put a stop to brassiness as well as promotes your hair shine. Its delicate but effective formula contains Irish moss extract, Ocean Silk Technology, violet pigments, and UV Protectants. It costs 28$.
Blonde Ale Brightening Shampoo
Colored treated hair can be damaged easily and get dry as a dessert when the environmental conditions are not cooperating. To fight against the dryness and the brassiness, the brand Drybar brings you this shampoo that will guarantee your hair's hydration. Its soft formula is adequate for any kind of hair textures and its capable of repairing your hair with its mix of keratin proteins, chamomile, and lemon extracts. What things will you not find in this shampoo? Parabens, sulfates, and phthalates. Use it only once or twice per week and enhance your icy blond or white hair right away for only 27$.
For damaged hair
Goldwell Dualsenses Blonde and Highlight Shampoo
If you have slightly brassy hair but, on top of that, your hair is going through a tough time, then this shampoo will solve all your problems. It works well to correct brassiness and dryness. It moisturizes your strands and makes them soft and healthy. Its gentle formula is rich in microPROtec complex and Luminescine. You can get it for 33$.
Amika Bust Your Brass Cool Blonde Shampoo
Colored treated hair tends to get damaged easily. If you need a shampoo to repair your hair and correct the brassiness on it as well as how dull or dry it is, Amika Bust Your Brass Cool Blonde Shampoo will return revitalize your hair and make you look as if you just put a foot out of the salon. Its formula is free of sulfates and parabens, which makes it right for damaged hair. It has a mix of avocado oil and Disodium EDTA, as well as sea buckthorn. This last ingredient is present in all the Amika products and it is around 15 times richer in vitamin C than an orange, also contains 3 times more vitamin A than a carrot, vitamin E and has a good concentration of omega-7. It can be yours for 20$.
Pravana The Perfect Blonde Purple Shampoo
Pravana is one of the few shampoos that has a gentle formula but it's also strong enough to correct the most stubborn brassiness in just one clearance. You can use it once a week and leave it on for 3 minutes and then clear it, but be careful with your nails because it can stain them. It is safe to use on bleached hair and it comes in a complete set you can acquire to make sure your hair will be well taken care of. It costs around 16$.
Philip B. Icelandic Blonde Shampoo
Another great purple shampoo for bleached hair. It corrects yellowish tones and makes your silvery or white hair looks amazing and healthy thanks to a great formula that mixes grapeseed oil and plum extracts which enhance the shine of your hair. Fix you brassiness and split ends with this shampoo for 44$.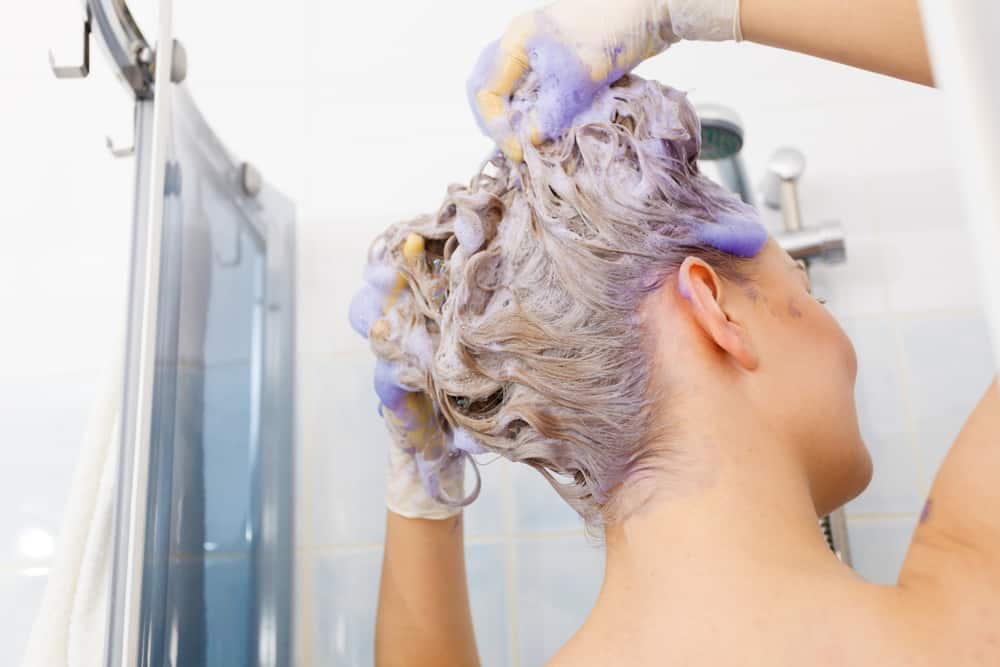 There is a purple shampoo for every need of your hair. Doesn't matter what hair texture or what shade of blond you have, you can still find a purple shampoo that meets all your needs and expectations the way you need it too.