Last Updated on
If conditioners are the kings to amazing curly hair, then gels have got to be the queens. The best hair gel for curly hair makes the difference in your look for the day and curl's mood. Good gels take a new dimension when you are talking about coily and curly hair in comparison to other types of hair such as relaxed one. But do you know how to choose only the best gel for your curly hair? Continue reading to find out how.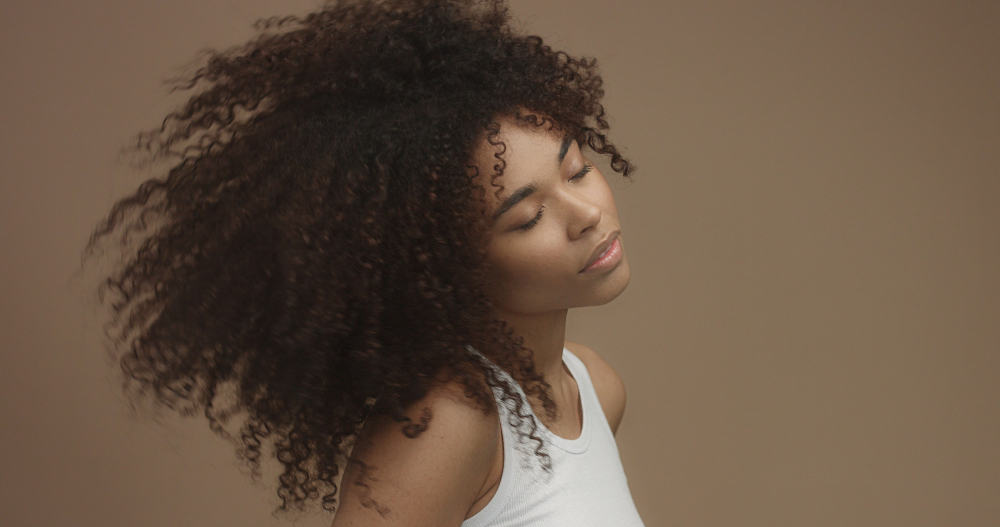 Top Five Gels for Curly Hair Review
1. Curly Sexy Hair – Curly Creme Unisex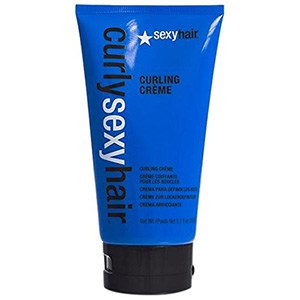 This creme provides extra control and definition to your erratic and unmanageable curl. It provides you all-day hold that controls and smoothes frizz while aiding your curls to retain moisture. Humidity is critical as it helps your hair to remain healthy – prevent your curls from going flat.
This gel also controls and enhances your curls and leaves them extra hydrated and soft. The other thing about this product is that it is suitable for everyday use and also suitable for refreshing second-day curls.
The creme tames your unruly curls and provide them shape, definition, and strength and also helps to eliminate frizz while adding volume to your hair – for all day hold. The other thing about this product is that it's suitable for use on dry or damp hair – it works best on damp hair.
The product is very efficient and absorbs in your hair within seconds to give your hair a beautiful shine and even hold your curls well.
Another notable quality of this product is that it doesn't form any build up on your scalp. It also makes your hair to be lively looking and be bouncy. It also holds your curls for a very long time.
Pros:
Very effective
Volumize hair
Produce beautiful curls
Cons:
You need to use a lot of gel to enjoy the desired results

---
2. Pantene Curl Perfection Sculpting – Best Hair Gel for Thick Curly Hair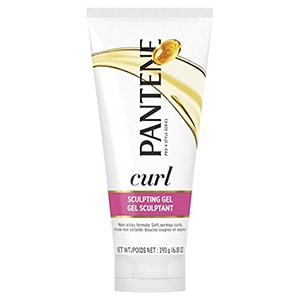 You will not leave any curl behind with Pantene Curl Perfection. The product features a non-sticky design that imparts a touchable but strong hold for soft and springy curls that put a spring in your step toward a change in your style.
It features micro-smoothers that help to tame fly-aways and frizz, enabling you to sculpt your hair and form a lasting definition. For the best results, use this gel on damp hair after washing with shampoo and conditioner.
The product is well-known for producing springy curls that produce long lasting effective to last your all day. This curl-shaping creme offers moldable hold that boosts and supports your curls while you create definition. This will make people fall in love with your hair.
The gel is fueled by science to helps change the hair you have from ordinary looking curls into the curls that you have always wanted. Each bottle is carefully designed to offer your hair additional elements that it requires to achieve the amazing results you want.
This is one of my favorite gels on the market today. I have used it for 2 years and I have really enjoyed the results.
Pros:
An affordable gel
An effective product
Gives beautiful curls

---
3. Matrix Biolage Defining – Best Styling Gel for Curly Hair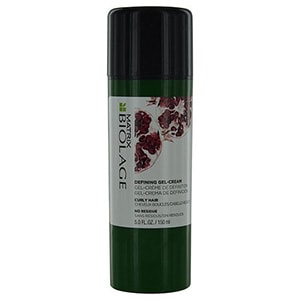 This is a unisex gel for curly hair. It is a new product that was developed a few years ago to replace the older model of the hair defining cream. It is much improved that the earlier version.
The product offers a good amount of frizz control and holds that will last all day – you don't need to worry in the middle of the day. You only need to comb 2 pumps worth of this gel via towel-dried hair or wet hair, scrunch it, and leave it to dry.
As opposed to the ordinary biolage gel, this product has a pomegranate aroma which you will like. It is also quite affordable – you don't need to break your wallet to get one.
The other great thing about this product is that it will last you for a very long time. You only need a small amount and your hair will look bouncy and shiny all day.
Pros:
Quite affordable
Very effective
Last for long

---
4. Ultra Curl Defining – Best Gel for Curly Frizzy Hair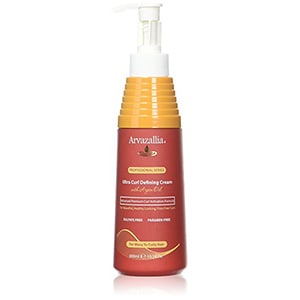 With Ultra Curl Defining Cream, you will finally get the ultimate product for your curls. You will love your beauty, natural looking, soft, as well as frizz free curls. This gel with Argan Oil is an advanced product that effectively penetrates and conditions your curly and wavy hair to restore its nature and activate your curls.
It get rid of frizz and offers the ideal combination of smooth, shine, and hold to provide you healthy looking, beautiful, and bouncy curls.
Customers and salon stylist love this product because it offers your curls and waves maximum definition and the ideal amount of hold while making your hair soft, frizz free, natural looking, and beautiful.
The product's all-in-one formulation moisturizes, adds shine, and conditions your hair to eliminate the need to use other products. It also latest curl activation design offers relaxed curls with no heat or you may decide to activate heat to enjoy deeper curl definition.
The gel is infused with vitamin E and Argan oil to enrich and nourish your hair with necessary nutrients. Your hair will feel, smell, and look better than before.
Pros:
Eliminate frizz
Effective for your hair
Quite affordable
Cons:
Contains a lot of chemicals

---
5. Sexy Hair Gel – Natural with Aloe Vera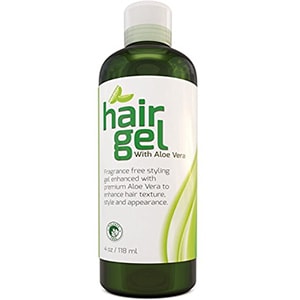 This product will make the different between having curls that are harsh and crunchy looking and those that are bouncy and beautiful. Straight hair and wavy curly hair are amazing but all have one major issue – frizz.
This is what this gel was made to eliminate. The product is infused with vitamins A, C, and E and Aloe Vera to enhance your curl texture and lock your hair all day. The gel helps to improve your natural hair and define and refine what nature gave your head.
Its primary ingredient, Aloe Vera, contains 18 amino acids, 12 vitamins, and 20 mineral. These ingredients are loved in both beauty and medicine. Your hair looks best when you condition it with this gel, which also adds moisture to your curls and retain it there.
The product also boasts of a weightless formula that helps you to realize elegant curly hair, straight hair, waves, and even bouncy curls. The gel helps you to create styles for everyday use, weddings, hot dates, and prom. It also gives your hair volume and enables you to shape the hair any way you want.
Pros:
Suitable for all types of hair
100 percent money back guaranteed
Works well with other shampoos

Best Hair Gel for Curly Hair Buying Guide for 2019
There are four factors that you need to consider when buying gels for curly hair:
1. Chemical Nature
Hair gels are usually chemical products although they might be added natural ingredients for a better nourishment of your hair and scalp. These products contain PVPs which are simply polymers that hold on to your hair without being consumed into your hair shaft. Therefore, for better nourishment, look for a gel with natural ingredients.
2. Efficiency
Hair gels are usually compatible with different types of hair. This includes wavy, colored, relaxed, textured, and curly hair. Therefore, there is no set formula for buying an efficiency gel for your curly hair. Efficiency depends on the duration your gel will maintain your curls.
3. Alcohol Issues
Hair gels that have high concentrations of alcohol aren't recommended by professional stylists since its presence tends to take away moisture from your scalp, drying out your hair, making it weaker. Low-quality gels might even induce flaking of your scalp and even lead to hair fall.
4. Different Types
All gels for curly hair aren't meant to better your hair health or lead to hair growth. Actually, some of the low-quality products fail to do anything notable for your hair or even your scalp's health. Only high-quality hair gels will offer to condition your hair along with offering it a defined shape.
Gel Styling Tips
Here are a few tips that will help you achieve the best curl with the best hair gel for curly hair:
Apply this product at the last stage in your styling process on wet hair.
Do not rake the product via your hair – apply it to the surface and then scrunch up.
Allow your curls to dry completely – might take a while.
Scrunch out the crunch to eliminate the gel cast – use your hands, your diffuser or a soft t-shirt to break the coating and free your curls.
Gels often provide more control and hold and less body. They are moisturizing as well, and have similar ingredients. These products are also suitable for different types of hair, especially coarse/thick as well as looser curls. They are quite effective for curls as they encourage them to spring up and stand out. However, you need to be careful when using these products as they might look crunchy or wet on your hair.
With that in mind, the best hair gel for curly hair got to be the Curly Sexy Hair Curly Creme Unisex. This product offers extra control and definition to your erratic and unmanageable curl. It also provides you all-day hold that controls and smoothes frizz while aiding your curls to retain moisture. The other thing about this product is that it's suitable for use on damp hair. It is also very efficient and absorbs in your hair within seconds to give your hair a beautiful shine and even hold your curls well.