Last Updated on
What you feel inside reflects outside, so why not go to the office feeling like the most beautiful woman in the world? Okay, let's agree that your workplace is not a runway… but dressing up a little bit when going to work can really boost your confidence and make you handle businesses with much more assertiveness. To help you achieve a girl boss look, here is a list of office-appropriate hairstyles.
8 Office-Appropriate Hairstyles
1. Slicked back pixie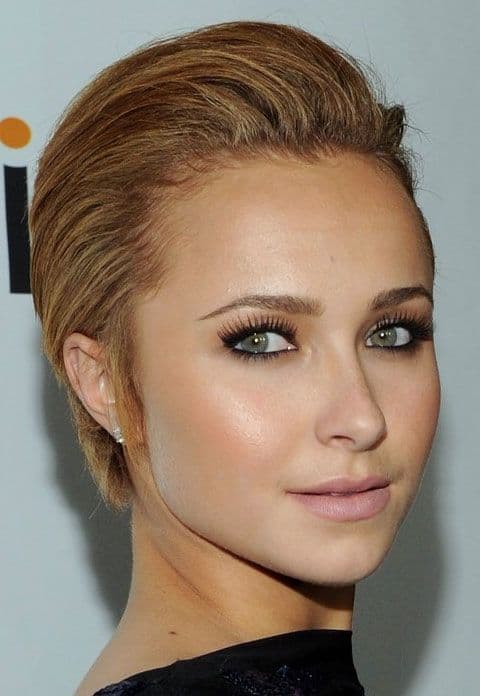 If you have a pixie cut, you already have a haircut that screams girl boss. Pixies have become a true transformation tool for many famous women. Just look at Pamela Anderson's pixie. I will never get tired to preach that look was the best Anderson ever had in her entire life.
If you have a pixie and you always style it in the same way, know there is plenty of room to get creative! One awesome way to style your pixie for the office is to slick it to the back. Use gel to accomplish this look. You can choose to either have all your hair to the back, with no volume; or, to have an edgier look, tease your hair and make it a little poofy before slicking it to the back.
2. Knotted ponytail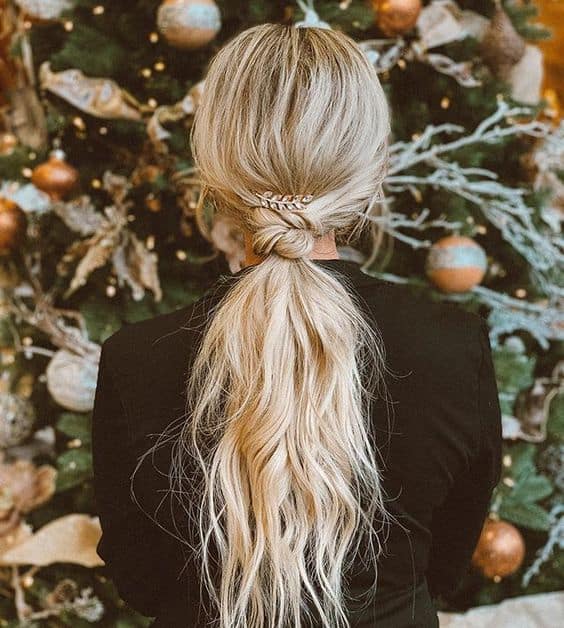 Ponytails are office-appropriate hairstyles but they tend to be an easy option to resort to when you are running short of time. Unfortunately, they can get boring easily. You can find fun ways to upgrade the classic ponytail: adding a knot to it is one of them. All that you need to do is make a ponytail and secure it (don't use rubber bands to do so because they damage your tresses). Brush your hair thoroughly to get rid of all the unwanted knots. Then, grab small side parts of the ponytail and make a knot. You can hide the ends of the knot at the back of the ponytail, and then grab two more sides and repeat the process. Do this three times, to have a well-defined set of knots holding the base of your ponytail.
3. Super smooth and straight hair with hair pins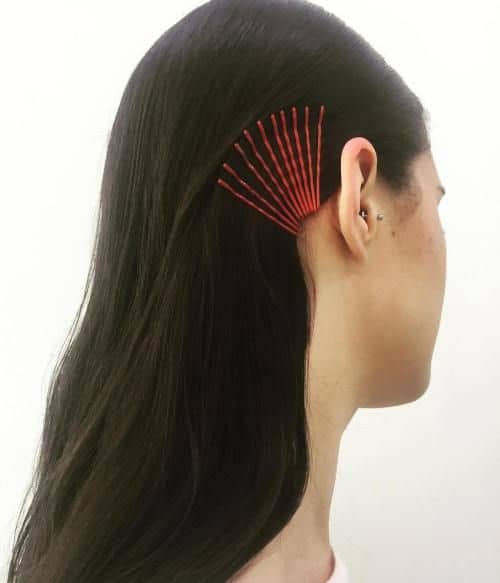 If you have extra time in the mornings, you can dedicate some minutes to iron your already straight hair and make it look shiny and super straight. If you don't have straight hair, it will take you longer to achieve this look, but you can use a blow brush to make it last longer.
The only bad thing about super straight hair is that, unless you have it very long, it will tend to cover your face. Whenever you lean, you sit, you stand up, your hair is going to come to the front. To avoid being sweeping your hair to the back repeatedly, you can use hairpins. But don't opt for the plain ones: choose hairpins that have a design, like flowers or decorative rhinestones. Or, even, insert the hairpins in creative ways! You can put three of them, forming a triangle, on one side of your hair to hold it.
4. Twisted half updo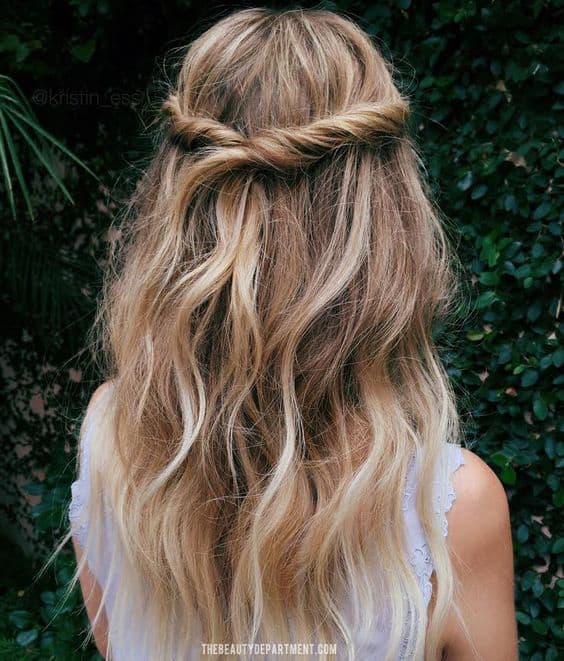 Half updos are office-appropriate hairstyles, versatile and can be embellished easily. To rock a hairstyle that will be the sensation of the office, you just need to grab the end of the part of the hair that you tied and insert it in the middle. You can repeat this move a couple of times until getting the desired effect.
5. Braided half updo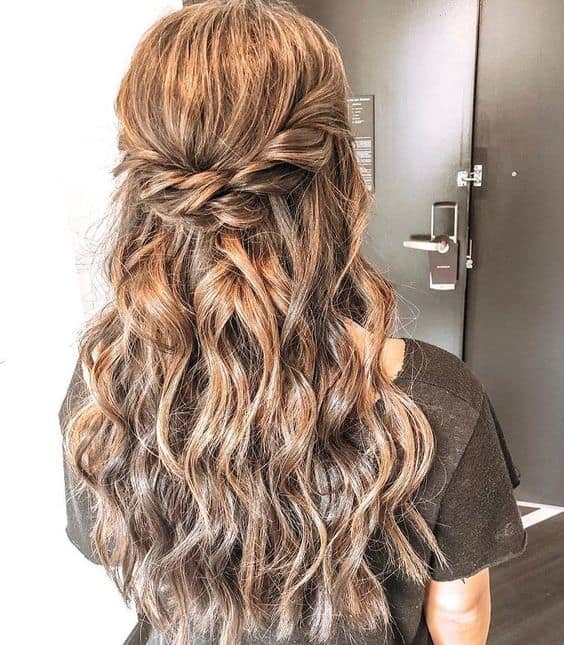 This is why half updos are so fun to carry. You can have some of your hair down and show off your locks while having up another part of your hair in an elaborate way. In this case, you just need to grab a section of each side part of your hair, braid it and cross it, to finally secure it. You should use a curling iron to give some soft waves to the ends of your hair.
6. Fishtail braid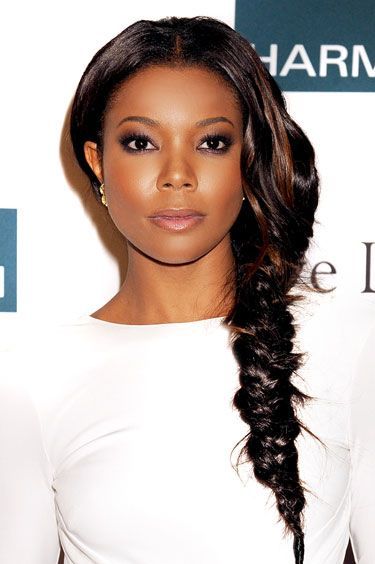 This hairstyle works well for straight and curly hair. Even though it requires a little more of ability, you can still get it right if you don't have much experience braiding your hair. This is not supposed to be a super smooth hairstyle, but rather a soft and casual one. To accomplish it, all that you have to do is divide your hair into two sections. Then, grab little sections from the sides and pass them from one side to the other. Once you have secured your hair, you will notice the braid looks very tight. Pull parts of the braid a little bit to loosen it.
7. Poofy half updo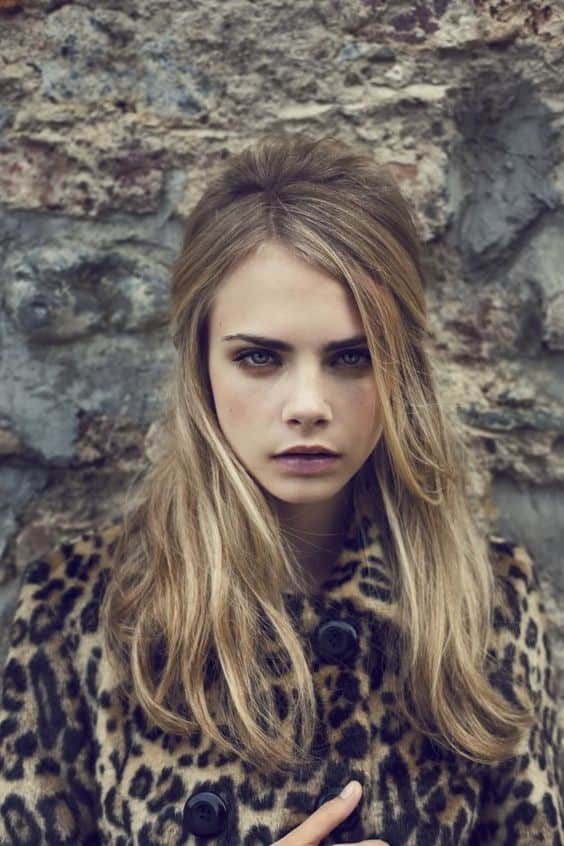 Didn't I tell you half updos are amazing? You can create many styles easily. In this case, we are going to make a poofy half updo. It looks sophisticated but not too over the top. You will need to tease the section of your hair that you want to be voluminous and, to make sure it will stay poofy for as much time as you will be at the office, you need to spray it with a good amount of hair spray. But be careful not to use too much or your tresses will end up looking plastic hard. To add some texture to the hair that is down, use a curling iron. Then, to give it a nice finish, you can use a boar bristle brush.  
8. Bun with twisted side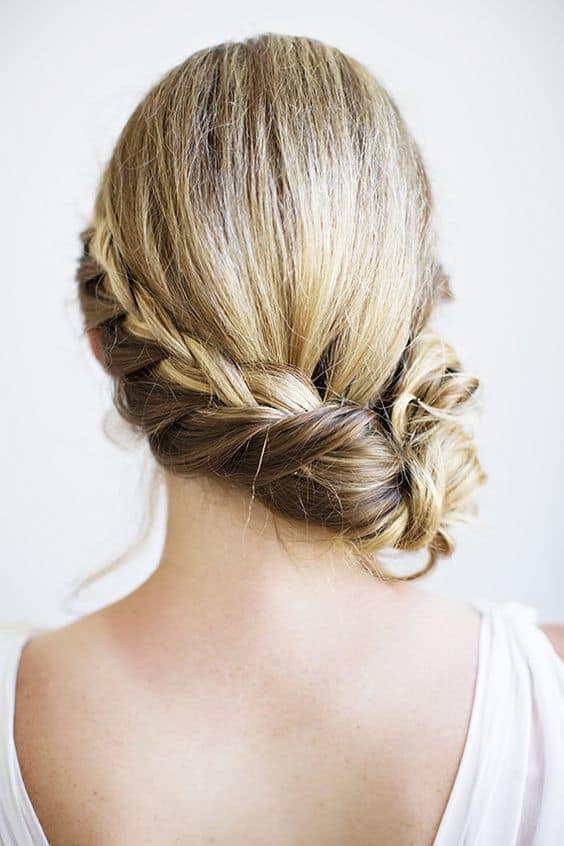 Basic buns are office-appropriate hairstyles but need a boost. Do you know you can upgrade your simple bun with just a few changes? First of all, instead of being so symmetrical and do your bun just in the middle of your head, place it to the side. That alone will make your bun more interesting. Now, to make it more fun, add some twists to it. Grab two sections of your hair, from the front side, and start twisting them all the way to the end. Then, roll your twisted hair and secure it. There, you have a nice and original bun with a twisted side.
Image credits:
Rachael Wood on Pinterest
Samantha Scholzen on Pinterest
Santa Barbara on Pinterest
Stylecaster on Pinterest
Sassi on Pinterest
Amanda Boston on Pinterest
Jessica M on Pinterest
Marcela on Pinterest