Last Updated on
If you are one of those people who only allow a scissor to come close to their hair when they want a completely new makeover, then you better reconsider how often you are trimming your hair. You might be struggling with frizz and dryness, and using as many oils and hair products as you can to repair the damage on your hair but obtaining no results. The truth is that your problem could just be some split ends that need to be urgently snipped off. Why the urgency? Because split ends can truly sabotage your hair growth and health. If you want to learn more about why should you trim your ends, when to do it and how to do it, then keep reading this article.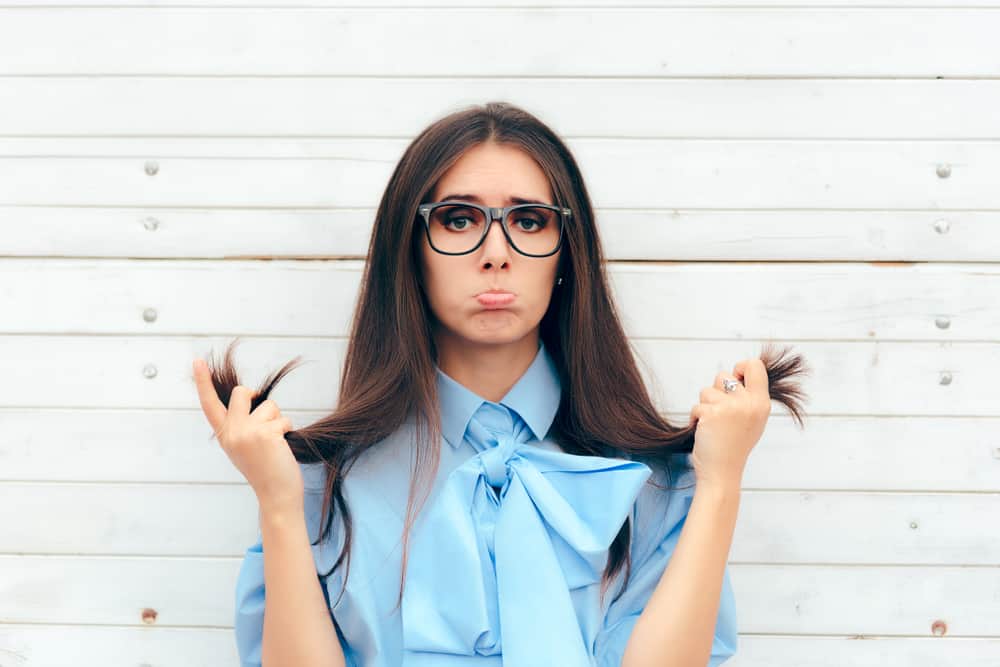 Why should you trim your ends?
Your hair will get damaged
You should trim your hair because it will get damaged, no matter how much care you take of it. It's a natural law of life. There is a number of reasons that make this a fact:
Friction: Your hair gets damaged due to the friction between the strands. It's something inevitable. But the friction also occurs when the hair is in contact with clothing. Actually, letting your hair down when wearing hats, scarves, coats or any other clothing made of wool is a bad decision because this type of fabric absorbs the oils from your hair.
Scalp tension: Whatever happens on your roots will have a direct effect on your ends. Tieng your hair too tight will stress your scalp and make your strands weaker and more prone to splitting.
Environmental conditions: Seasons bring different challenges for your hair. In summer, you need to take special care of your hair just as you do of your skin. Autumn's strong winds will increase the friction effect on your hair. Winter will dry your strands. Get ready to cover your hair needs during the different seasons.
You might be causing it: You might be doing things that damage your hair and you are not even aware of it. You could be detangling your hair when it is wet or in a rough way, using products with an aggressive formula and more.
The damage will show: When? Between 3 to 4 months. That's the average time for the cuticle, the protective outer layer of our strands, to start wearing off to leave the inner layer of the hair, the delicate one, exposed to damage. That's when the hair starts to split.
Hair growth
Can trimming make your hair grow? And how does it do it? Well, let's clarify something. That myth that says that cutting your ends will make your hair grow faster and longer is pure bs. In other words, whatever you do to your ends will not affect, positively or negatively, your follicles. How does cutting your ends benefit your hair growth then? Split ends are very bad for your hair's health because the strands keep splitting, can get very close to the root, and affect the new hair that grows.
Maintain your hairstyle shape
If you have a high maintenance hairstyle, then you should trim your hair often to make sure it doesn't lose its shape.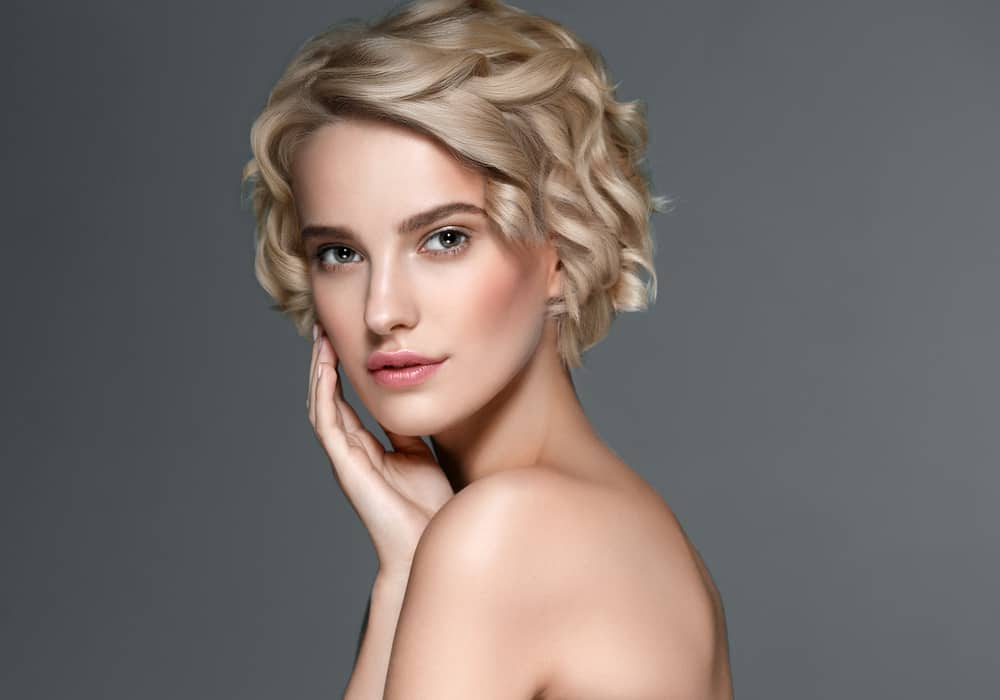 Say bye bye to frizziness
Split ends make your hair looks frizzy because those thin and weak strands don't hold any moisture. Instead of trying to control it with hair products, just get rid of all the damaged split ends.
Natural hair
Natural's hair texture is beautiful but it requires a lot of maintenance. Trimming it on a regular basis will really help you to take better care of it. You will be able to avoid the single strand knots and the detangling process will be way simpler too.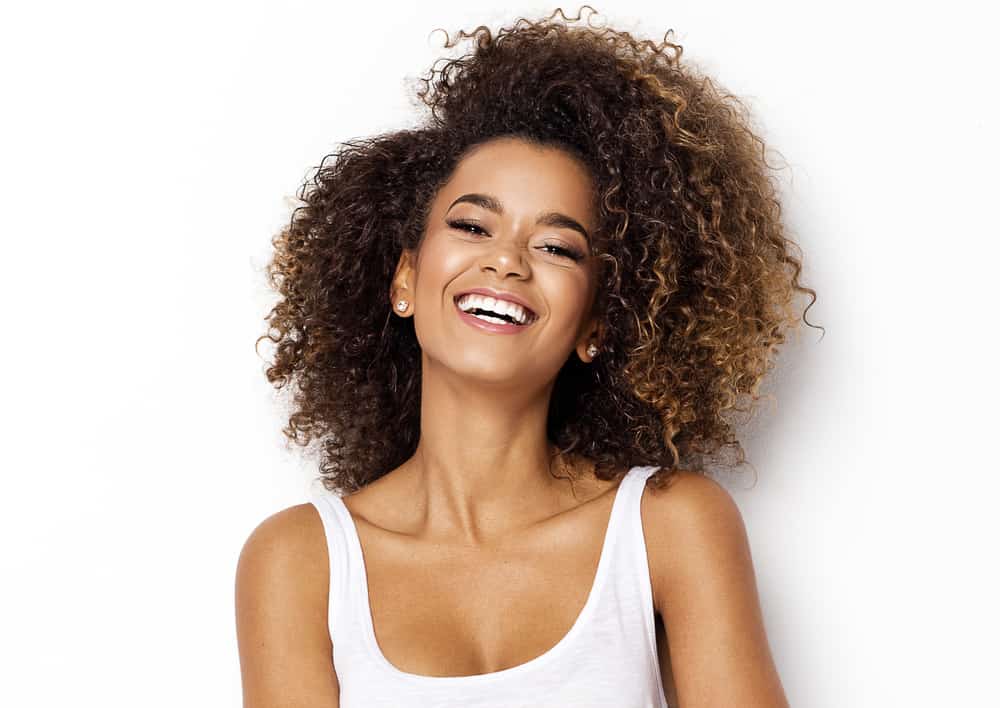 When should you trim your ends?
Every 3-4 months
As I stated before, that's when your hair will start to show the effect of all the damage it suffered due to the elements mentioned before. To avoid it from showing, you should get your ends trimmed every 3 to 4 months. Don't go for the 6 to 8 weeks rule or you will be cutting your hair faster than what it can grow.
If you have a specific hairstyle…
… you should get your ends trimmed every 3 weeks so nobody ever notices that your hairstyle has changed a little bit. If you don't worry too much about it, then you can just get your hair trimmed every 5 weeks.
If your hair looks…
… dull, lifeless, like it has more split ends than normal and strong strands, then it is time to trim your hair. Of course, it's no good to let your hair go for that long without a good trim.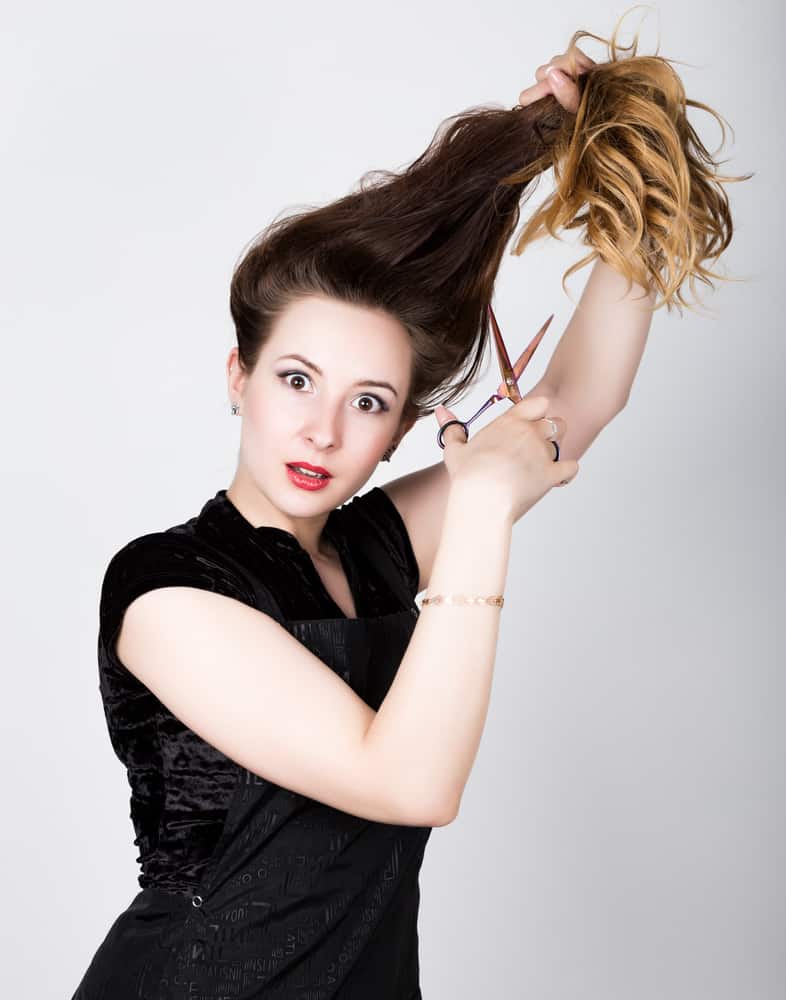 How should you trim your ends?
Go to the salon
If you don't want to deal personally with the problem, you have the money and the time to do it, or you have a specific haircut that works well with your face shape and you want to maintain it, then go to a salon to have a professional trimming your hair.
DIY
Trimming your hair can be a very easy process. If you want to be your own hairstylist at home, then DIY. Two pieces of advice: use a pair of hair cutting scissors and pay attention when trimming your own mane or you could cut more than just the damaged ends. Here are some good and simple techniques for you to apply to trim your hair effortlessly:
Hair twisting technique: This is a popular one. Start with dry hair, brush it or comb it to detangle it, and then part your hair in sections. Twist tight one section and spot all the little hairs that stick out of the knot. Those are the damaged ends you need to get rid off. Start by the bottom, these ones will be the easiest to see. Cut them as close as you can to the knot and then move up, carefully, because you might not be able to have a good vision of the damaged ends. Once you have finished doing this, twist your hair on the other direction and repeat the process. Do this with each section.
Hair sliding technique: This technique requires a little more skilled hands. First, you need to make sure your hair is straight; if not, you should iron it (use heat protection!) to ensure you will perform this technique correctly. Once your hair is straight, grab a narrow section of it and put it in between your fingers: as a result, the hair should be on top of your middle finger, secured by your index and ring fingers. All the little hairs that stick out from the section trapped on top of your middle finger are the ones you have to cut. Start at the top and slide down to the bottom.
"I don't have the patient to do the other two techniques" technique: If you are running short of time or if you just don't want to put up to all the effort the other two techniques require, you can just trim your very ends. You should wet your hair, carefully comb it with a narrow tooth comb and then tie it on a ponytail, brush it again, lift your hair up on the air and cut the very ends. This will give you a nice graded effect. If you vary the height of the ponytail, you will get different gradient effects.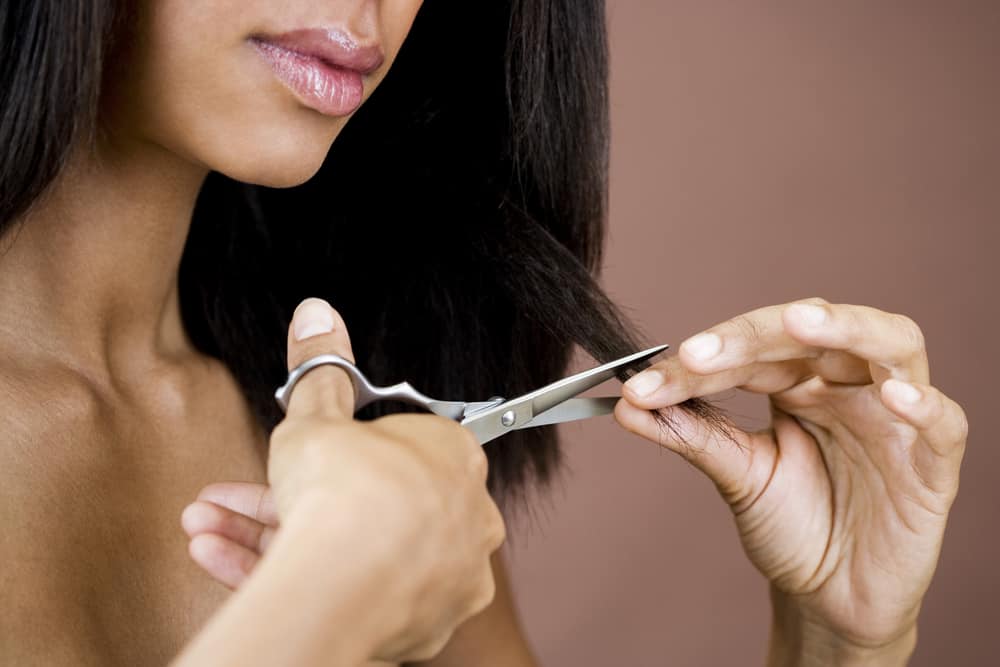 Now you know why it is important to trim your hair regularly and what "regularly" actually means. No amount of hair treatments can glue together split ends, the only solution is to chop them off. Don't be afraid to trim your ends, hiring a professional or doing it yourself, it will only add to your hair's health.