Last Updated on
If you are tired of the conventional hairstyles regular salons offer and ready for an extreme makeover, you might want to get some inspiration from… anime! Even if you are not a huge anime fan but a fashionista at heart, you will be able to enjoy this list of the most popular anime hairstyles for women. What are you waiting to get your look to new heights? Get kawaii choosing your new haircut from this list!
1. Bulma – Dragon Ball Z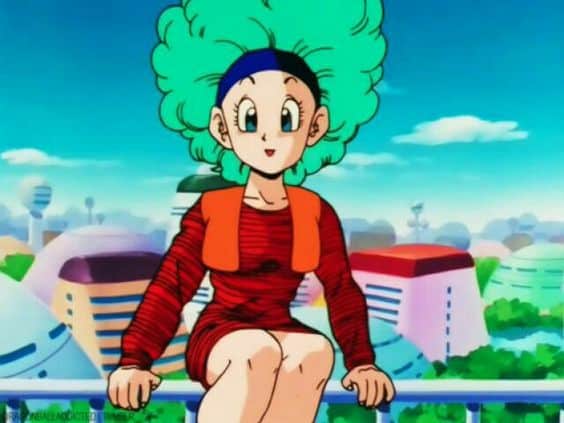 It's normal for every person to change their casual attire but, in the anime and manga world, characters rarely sport anything different from one outfit. But there is one female anime character that was constantly changing her look in unexpected ways. Bulma, from Dragon Ball Z, was always quite unpredictable. She was either going to space or marrying Goku's greatest antagonist but, above all, she was always slaying her style.
Who can forget the afro she was carrying around when Vegeta stayed in her family's house? We don't recommend you to dye your hair and then get a perm, but you should definitely give a chance to ultra kinky hair and get an afro-textured hair or weave. If you already have kinky hair, don't relax it! Get out of your usual routine, get a good hair difusser and copy Bulma's afro.
2. Sakura Haruno – Boruto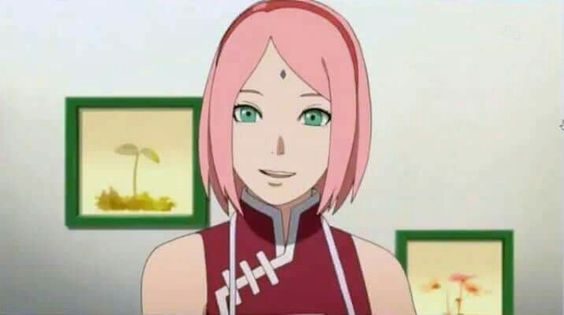 The always temperamental Sakura Haruno passed through some hair transformations during Naruto and Naruto Shippuden. This character had one of the most problematic love interests in the history of anime and manga but, in Boruto, the manga that keeps up with the stories of the next generation of ninjas, we can all breathe a sigh of relief because Sakura and the most eligible bachelor of Konoha got finally together and had a family.
In Boruto, Sakura sports a more stylish version of the hairstyle she had as a young teenager, during Naruto. Her long bob is straighter and she has a long side bang. Ever thought about getting a bold new fantasy color? A soft pink, similar to the color of the petals of the sakura tree, would be a trendy option.
3. Faye Valentine – Cowboy Bebop

credits: AnimeTV
The always sensual Faye Valentine appeared for the first time in 1998 in the anime Cowboy Bebop. This rebel navigated space and entertained us all with her adventures, her hot temper and her willingness to commit with danger. She used her looks just as she used her Glock 30: as a formidable weapon. This strong anime woman sports a very trendy hairstyle: long asymmetrical bob with slightly pointed bangs. To keep her straight tresses in order, Faye uses a headband.

4. Asuka Langley – Evangelion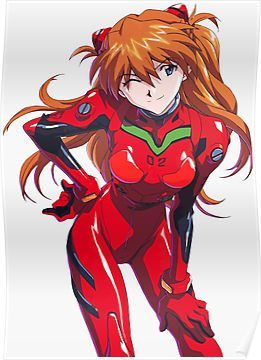 Time for redheads! Asuka Langley is the pilot of the Eva 02 in Evangelion, an anime about a post-cataclysm world that, far from surrender to the Angels that come to destroy them, designed a way to face all the horrors that arrive from time to time to attack them.
Asuka has beautiful long hair with bangs. You can definitely copy her hair tone, a brownish red, that will look natural and give you a warm aspect. She uses a bushy fringe, which frames eyes beautifully.
5. Kaoru Kamiya – Rurouni Kenshin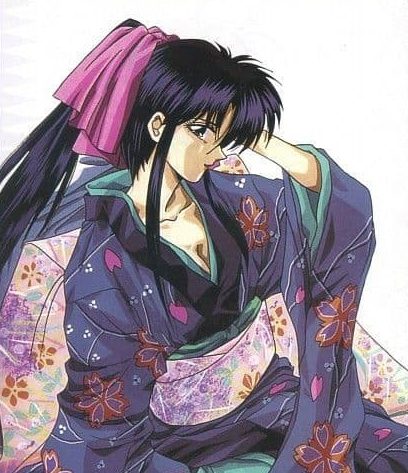 The owner of the Kamiya dojo has a sense of justice and goodness that only got amplified when she helped and let the vagabond samurai, Kenshin Himura, in her life. If you are a fan of ponytails but don't usually know how to wear them in a more fun and stylish way, you can get inspiration from Kaoru Kamiya, the female protagonist of Rurouni Kenshin.
She wears long bangs, which frame her eyes, and decorates her high ponytail with a big ribbon. You can master the art of wearing hair ribbons in different ways following this Youtube tutorial.

6. Urd – Oh My Goddess!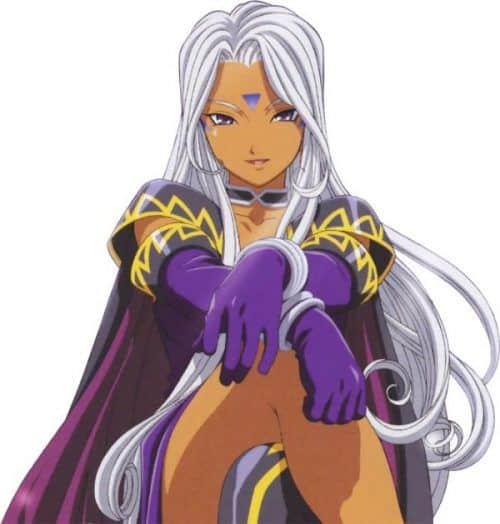 Urd, the biggest sister of Belldandy and Skuld in Oh My Goddess! is the perfect inspiration for you if you are wondering if you should dye your hair grey. Grey hair is not associated with old age anymore, it is a trend that many young women have been assimilating to enhance their looks. Urd has long grey hair and a light-brown complexion, showing you don't need to have a certain skin tone to look amazing with hair in a silver hue.

7. Izumi Curtis – Fullmetal Alchemist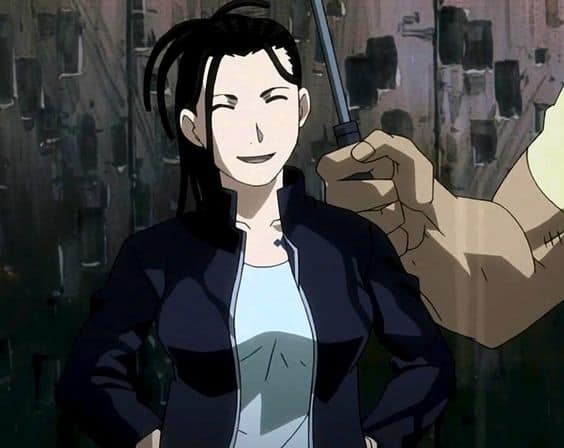 Just when you thought anime hairstyles for women were only comprised of colorful hues and gravity-defying hairstyles, Izumi Curtis, from Fullmetal Alchemist, arrives with a low maintenance style. This anime woman is the one who taught Ed and Alphonse Elric how to master their alchemic abilities, and she did it while rocking a ponytail full of dreadlocks.
You too can have this powerful self-taught alchemist hairstyle. Dreadlocks are only high maintenance if they are perm dreads but, the ones made by rubbing methods do not require a lot of attention.
8. Akane – Ranma ½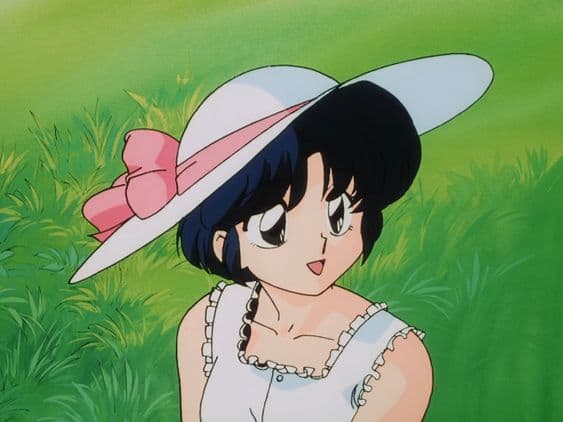 The fiance of Ranma Saotome, Akane Tendo, used to have long hair and been quite devoted to it but, after a school fight she got unintentional involved with, she started sporting a pixie cut. It reminds me a lot of the one the supermodel Tao Okamoto showed off in 2009.
Although Akane's haircut is a longer and bulkier version of Tao's bowl cut. Get this voluminous pixie cut, we bet you won't miss your long hair neither after seeing how good you look with shorter hair.
9. Rei Hino – Sailor Moon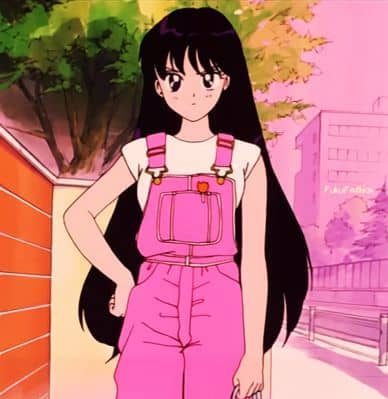 I couldn't let out of this list a character from one of the most beloved and iconic animes from all times: Sailor Moon. While all Sailor Moon's fangirls were head over heels for Tuxedo Mask, I was hypnotized by Serena's long piggy tails.
But the sailor that sports my favorite haircut is, without doubts, Sailor Mars. Rei Hino has long straight black hair with bangs. You too can achieve this beautiful haircut. If you have long down, use a flat iron to straighten it and a curling iron to shape your bangs. If your hair is shorter than Rei's, no worries, is time for hair extensions.

This is my list of 9 popular anime hairstyles for women. Let me know if you dare to try any of these 9 options or if you ever wanted to copy the hairstyle of a character that was not included in this list!
Images credits:
Stephanie Di Grazia on Pinterest
Sakura Uchiha on Pinterest
Jwany on Pinterest
Redbubble on rePinterest
Carlos Martínez Sánchez on Pinterest
Raven Rose on Pinterest
Pearl on Pinterest
Cinthia Gomez on Pinterest
Citlali Escobedo on Pinterest