Last Updated on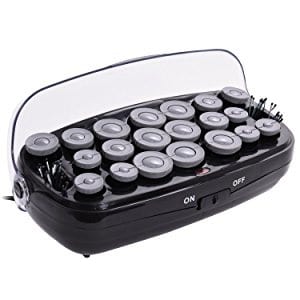 When it comes to hairstyles, we've gone past the age of paper-flat, stick-straight hair and have gone back into the "bigger is better" era.
That means that more and more women are looking for beautiful, 50's style waves, or tight, bouncy curls.
But we've learned something else about hair in these new times: Hair curlers aren't healthy for your strands. But that doesn't mean that you have to resign yourself to either damaged hair or straight hair!
Instead, you can choose a third option: Use a hairsetter kit!
These are a throwback to the ones that your mother or grandmother used, back when curls were in fashion. And the best choice in this is the Vokai Labs Hot Rollers HairSetter, which offers you the best of both worlds: "Beautiful, old-school curls, and modern technology."
The amenities that these hot rollers boast are those you should always look for: Lots of rollers in different sizes, so that you can create any hairstyle that you want, and a way to keep everything secure when making that hairstyle.
With twenty rollers in three different sizes, this hot roller set certainly has variety.
For that secure hold, it also comes with two different kinds of clips, for the best hold.

The Right Rollers for Any Hair Type or Style
There are almost as many different hair types as there are people on the planet. You can have short, thin hair, or long, thick hair, or anything and everything in between.
It's a beautiful thing, but can also be annoying for the women trying to find a hair-care tool that will work on their specific hair. Hair setters work just the same. If you want curls or waves in thick or thin hair, you'll need a different kind of roller.
Finding the right hot roller for your hair can be a problem. But the Vokai Labs Hot Roller HairSetter has you covered, no matter your hair type! It comes with twenty rollers in three sizes: Eight large rollers, six medium rollers, and six small rollers.
This is perfect for women who want to change their hairstyles frequently. Are you worried about tangles while hot rolling?
Don't!
All twenty of the rollers are specifically made to be tangle-free, for ultimate ease of use.
Included Clips, for Extra Stay
One of the most difficult parts of using a hairsetter is keeping the rollers in place. This is particularly difficult if your hair is short, thin, or unruly.
Fortunately, the Vokai Labs Hot Roller HairSetter has found a way around that! It comes with two types of clips, guaranteeing a secure hold while styling your hair. There are roller pins, which are traditionally used to keep rollers in place during use.

If those aren't enough, or if you prefer not to use them, there are also butterfly pins, for even more hold. Another reason to purchase the Vokai Labs Hot Roller HairSetter!
Specifications for the Vokai Labs Hot Rollers HairSetter
Has a small footprint, at just 12.2 inches x 6.2 inches by 4.9 inches.
Weighs just three pounds.
Comes with twenty rollers in three sizes: Eight large, six medium, and six small.
Comes with two types of clips for extra security. Includes both roller clips and butterfly clips.
The Good and the Bad
For the most part, almost all of the Vokai Labs Hot Rollers HairSetter's reviews have been positive. Most agree that this is a great choice in a hot roller set, and that it works exactly as advertised.
There is, however, one bad comment that should be taken into consideration: There have been claims that the hairsetter kit smells bad when it is first used. Though not noticed in every instance, it has happened.
Thankfully, this can become a moot point: The bad smell doesn't transfer to hair, and the smell begins to fade after a few uses.
Besides that, the Vokai Labs Hot Rollers HairSetter is an excellent product. With a variety of rollers, it has all the options that someone looking for the perfect curls could want.
To make it even better, it offers two different kinds of clips, so that you can have the hold that you need to make your dream hair a reality!