Last Updated on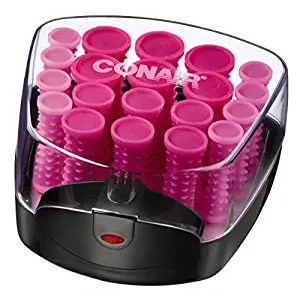 It happens all-too-frequently:  A new hairstyle catches your eye, whether on television, in a movie, or on the front page of a magazine.
The only problem?
It's features bouncy curls, or glamorous, old-Hollywood waves, and your hair is stick-straight. So you've got to curl it, right? But curling irons are too harsh, and can easily damage your hair.
Hot rollers are an option, but they normally come in kits that nearly need an entire room to themselves.
And we all know that bathroom counter space is at a high premium, particularly if you share with a roommate or a significant other. What's a girl to do?
It's simple:  Invest in a set of hot rollers that come in a small package! The Conair Compact HairSetter is a great option for those who want to steal all of those beautiful hairstyles that we see in magazines and on the big screen, but don't have a hair trailer to store everything in, or a dedicated hairdresser to put them in.
Do you travel a lot, and want to take your favorite hairstyle with you? The Conair Compact HairSetter is perfect for that, as well! There are now no reasons you have to go from bountiful curls to paper-flat ever again!

Beautiful Curling in a Small Package
This is an important aspect for everything that you'll store or use in your bathroom. With houses and apartments getting more and more crowded, you'll want to make sure that your hair care tools will be as easy to store as they are to use.
Luckily, the Conair Compact HairSetter certainly fills that requirement! Small and lightweight for a hair setting kit, it can easily fit beneath a bathroom counter, or even stashed in a basket or bin.
And if you live in a dorm and you can't store your products in the bathroom, then you're still set! Just tuck it into your shower caddy, or beneath your bed.
Do you travel a lot, either for business or pleasure? Then you'll find that the Conair Compact HairSetter is the perfect travel companion.
They can be easily tucked into a suitcase, backpack, or large purse. With the small size of this hair setting kit, you won't have to sacrifice your favorite hairstyle, just so that you can go on vacation or on that business trip.
A Variety of Rollers for a Variety of HairSetter
There are almost as many different hair types as there are people on the planet. You can have short, thin hair, or long, thick hair, or anything and everything in between.
It's a beautiful thing, but can also be annoying for the women trying to find a hair-care tool that will work on their specific hair. Hair setters work just the same. If you want curls or waves in thick or thin hair, you'll need a different kind of roller.
The Conair Compact HairSetter is perfect for this very reason. Its small package packs a roller perfect for every kind of hair, and every kind of hairstyle you're looking to replicate. It has large, medium, and small rollers, perfect for creating either beautiful, beach-ready waves, or tight, bouncy curls.
Even the thickest hair can become curly and light using the small rollers. Thin hair can become wavy with the large rollers just as easily. It's a great choice for any hair type!

Specifications for the Conair Compact HairSetter
        The dimensions are 6 x 7.4 x 12.9 inches.
        The weight is 2.6 pounds; shipping weight is 2.7 pounds.
        There are twenty rollers in three different sizes. All hot rollers are color-coordinated with their size.
        There is a ready light, so that you know when the hot curlers are hot and ready to be used.
The Good and the Bad
Most of the reviews of the Conair Compact HairSetter are good. They confirm that the hot curlers work as specified, and leave absolutely beautiful results.
The only negative reviews to be found are a few that claim that the rollers don't easily hold in short or thin hair.
However, a fix for that has been suggested:  Using a few extra clips to hold them in. Beyond that, it seems as though the Conair Compact HairSetter works very well, and takes up very little space.
The Conair Compact HairSetter is an excellent piece of hair-care equipment. It is very small, taking up just a fraction of the space of a normal hair setter kit.
It also has a variety of roller sizes, so that it will work just as well for almost all hair types, though some people with very thin or short hair might have some difficulties.
Because of this, it is a very good purchase for anyone, to be used at home or during travel.