Last Updated on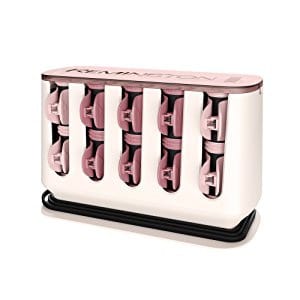 The Remington T|Studio Thermaluxe Ceramic Hair Setter takes curling hair to a new level of hotness.
The design of the hot rollers set is just as pretty as the curled hair it creates.
The set comes in blush pink with rollers and clips in coordinated shades. This set is designed to heat up quickly and the rollers heat up the hair just as quickly.
It includes styling clips so you can section off your hair before styling it.
Stylish Designs from Quality Hot Rollers
This set includes 20 rollers in two sizes. There are 12 large rollers that measure 1 ¼ inches in diameter. It also has 8 medium rollers that are one inch in diameter.
With 20 rollers, you can easily curl a whole head of hair with this one set. The rollers are coated with ceramic so your hair stays free of frizz and split ends from the heat.
These Thermaluxe rollers heat up in about 90 seconds. You will know when they are ready to use from the LED notification light. Both the clips and the rollers heat up.
Remington suggests leaving the rollers on your hair for five minutes. Remember to let the hair the cool down before finishing your styling. The thermal technology and the ceramic finish creates curls that will last all day.

All the Numbers You Need
The Remington T|Studio Thermaluxe Ceramic Hair Setter can be purchased online and in beauty supply stores. The model number for this set is H9100P. The set weighs 3.5 pounds, making it a medium-weight set. The set measures 5.8 x 10.9 x 7.2 inches.
The space-saving design makes it easy to store the set and take it on the road. There is a spot to store the cord to prevent a cluttered countertop. Remington includes a four-year warranty, too. The set does not have an power switch, so it must be unplugged to turn it off. The entire set sells for under $50, which is a bargain price for a quality hot roller set.
The Remington T|Studio Thermaluxe Ceramic Hair Setter is designed to create beautiful curls that look natural. The clip design has been improved over previous models so you never have to worry about telltale creases.
The sectioning clips are helpful for dividing up the hair so you can curl all of your hair or just a small part of it.
Because of the excellent design, the Remington T|Studio Thermaluxe Ceramic Hair Setter is perfect for all hair types. The durable set makes cute waves on short hair and luxurious curls on long hair.
The heat is ideal for thick hair and it works well on fine hair. The compact set has rollers that are covered with a velvety flocking to make them grip the hair and keep it hydrated. They are not too hot on the outside, making it easy to wrap them in your hair.
These ceramic rollers are extremely durable, which is proved by the four-year warranty. This set packs up quickly with the clips and rollers fitting into one compact spot.
The lid keeps everything in place so you can take it on the road or keep it protected from debris in your bathroom. It is compact and convenient.

Great Features Included
There are several good reasons to add this beauty tool to your collection. The first is the quality of the rollers. They have ceramic coating so hair can heat up from the inside. They heat up quickly, but are not hot to the touch on the outside and they do not burn the hair. The curls set quickly and hold up all day.
The compact set makes them ideal for traveling and for small apartment spaces. Another great feature of this set is the duo of clips and rollers. The clips also heat up, so the hair gets heated from the inside due to the roller and on the outside, too.
This complete heat creates amazing curls that are springy and luxurious. Even if you struggle with doing your hair, this set is easy to use. The clips hold the curlers better than pins.
There are plenty of people out there who struggle with doing their hair. This set of rollers makes the process easy. There are plenty of videos available online to help learn easy styles that take very little time to do.
When a product is designed as well as these hair curlers, it makes life easier because there is very little learning curve. They are easy to use, comfortable to wear, and they create the most beautiful styles that last all day.
What Needs Fixing
This hot roller set is about as perfect as they get. But, some people prefer to use rollers that have more variety in size. However, the curlers that are included in the set create pretty curls in very little time. The rollers are a typical length.
So if you have long hair or extremely thick hair, you might have to use some rollers twice to get all of your hair curled. There are 12 large rollers and 8 medium sized rollers.
Another issue is the lack of variety in voltage so these work well in the USA only.
Last Thoughts
All-in-all, the Remington T|Studio Thermaluxe Ceramic Hair Setter is a great option for people who love pretty curls that set in mere minutes. Despite just having two roller sizes, the curls that they make are healthy and bouncy.
The rollers are durable – built to last for several years. The velvety-soft texture and ceramic coating makes them appropriate for all types of hair.
The heated clips match up with the rollers so hair is heated in multiple ways and they are all safe.
With the under $50 price point, you will see why there are so many people who think this set is a great deal that will pay off for many years.