Last Updated on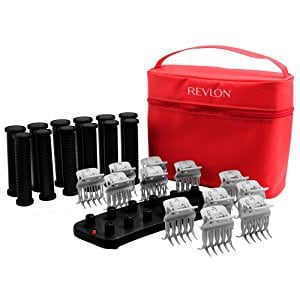 Whether you need a set of hot rollers for on-the-go or you need a new set at home, the Revlon Perfect Heat Longwave Hot Roller is a great option.
The set includes 12 extra-long rollers in medium and large sizes.
It also includes a convenient pouch that works for storage and for traveling.
These rollers are great for all hair types and textures, but especially for long hair due to their longer than average size.
All the Details
The Revlon Perfect Heat Longwave can be purchased online and in stores, especially beauty supply stores. The product model number is RVHS6610. It is a lightweight set, weighing only 2.5 pounds to ship. The set measures 5.5 x 12.5 x 8.5 inches, so it is small enough to store in cupboards or fit into a suitcase for traveling.
When you heat up the set, there is an indicator spot that becomes white as soon as the rollers are hot enough to use effectively.
There are also 12 hair clips included to you can easily separate the hair and not worry about tangles.
You can usually find this set priced under $50. Having only one voltage setting, the electrical plug only works in the USA.

Good on All Hair Types and Textures
These hair rollers are designed specifically for people with long fine or thick hair. But, they also work well on medium length or shorter hair. The extra-long rollers hold more hair that the typical size rollers which is why people with long hair like this model so much.
These rollers are large and medium size, so they give bigger curls that are as tight as those from smaller rollers. They are ideal for beachy, loose waves.
Even though they do work well to create loose waves, they can also be used to create the popular spiral look if you twist your hair before rolling it up.
Because they are so large, you will be able to shorten the time you need to get ready each day. The curls last a long time.
The Benefits
There are several benefits that come with using the Revlon Perfect Heat Long Wave rollers. One is that they are designed to hold more hair. This is a huge benefit for people with thick hair and/or long hair. Those with fine hair can benefit, too.
Because these rollers are designed so well, they do create long lasting curls that look like you spent a fortune on at the salon. No one will know you are using rollers, instead of your stylist. And, they certainly won't need to know that spent under $50 to get the set of rollers.
When it comes to hot roller sets, this one has several things going for it.
The first is the speed in which it heats up. It only takes a few minutes to reach the maximum temperature, so you can have your hair divided into sections and ready to go while you wait. The carrying case is perfect for travelling and there is a spot inside of the case just for the clips.
It is easy to fit the case in a carry-on suitcase or in a cupboard in your bathroom. Since the rollers are so much larger than the average ones, you will have more opportunities to get creative with your hair styles.

You can create big, billowy waves, spiral curls, or gentle, loose curls – whatever you are feeling on any given day, you can try it with the Revlon Perfect Heat Longwave Hair Setter rollers.
You could also simply use the rollers to create lift and volume at the roots. The rollers are made of plastic instead of foam or ceramic – they give a pleasant curl without damaging the hair.
One of the best benefits of this set is that it creates styles that will last all day. Whether you have short hair and you want sassy curls or you have long hair and you want loose waves, this set can get the job done.
The best part is that the curls you want will last all day. With plenty of available styling videos online, you can quickly learn everything you need to know to effectively use the Revlon Perfect Heat Longwave.
Simply put the rollers in place, put on your makeup while you wait for your hair to set, and voila! you will have beautiful curls.
Good to Know
Even though the rollers are made of a hard plastic rather than foam or ceramic, they are lightweight on the head. Your neck will not get tired, even with all 12 rollers in your hair.
They do get rather hot and some people like to use a specially designed heat-resistant glove that is designed for hair stylists so they can actually touch the rollers as they style their hair.
Some people choose to use two clips to hold their hair in place, especially if they have finer locks. Other women find that they need to use a different clip with their fine hair.  If you plan to store the set in the pouch, be sure to roll the electrical cord tightly so everything will fit.
In Conclusion
Overall, the Revlon Perfect Heat Longwave Hair Setter rollers are a good buy for people who like to style their hair with hot curlers. They offer a lot of flexibility in the way you choose to style your hair.
They are affordably priced and durable. With 12 rollers, clips, and a compact carrying case, you will have all you need for loose waves, tight curls, or added volume.
The rollers are perfect for people with long hair, but you can buy them no matter what type of hair texture and type you have. The hard plastic rollers are lightweight and they heat up quickly.
You will only need to wait about five minutes to have your curls set, too.
With this set of hair rollers, you can have the trendy styles you want in a very short amount of time.