Last Updated on
Every bride wants to be the center of attention on her wedding day. If your big day is coming closer, then you should check out this 7 Eye-catching Bridal Hair Accessories. Doesn't matter what your style is, if you are a classy bride or more of a boho one, be sure you will find that one great accessory to complete your look.
1. Hair Vine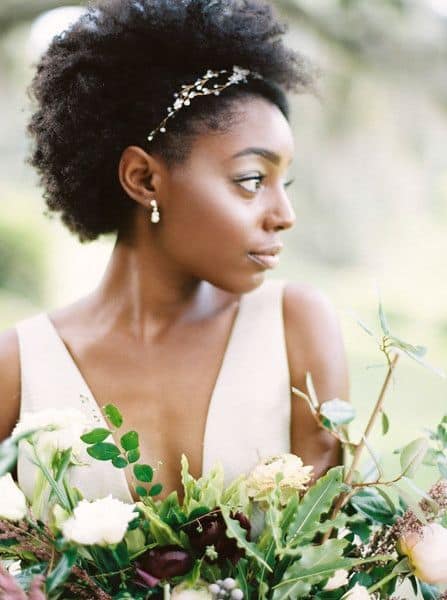 Credits: Pinterest
A hair vine is not only simple to wear but can embellish any hairstyle easily. It is easy to add to your updo or half updo since it can be used as a final touch. Depending on how you wear it, you can accomplish the look you pursue. If your wedding is taking place on the beach, you can wear a hair vine on the back of your head, as if it was a halo headband, to add a chic touch to your beach waves. It comes in different shapes and designs. You can find the very classical ones, which are made of stones (Swarovski ones are very popular) and form flower patterns; or more creative ones, that form butterfly patterns, and other intricate shapes.
2. Bridal cap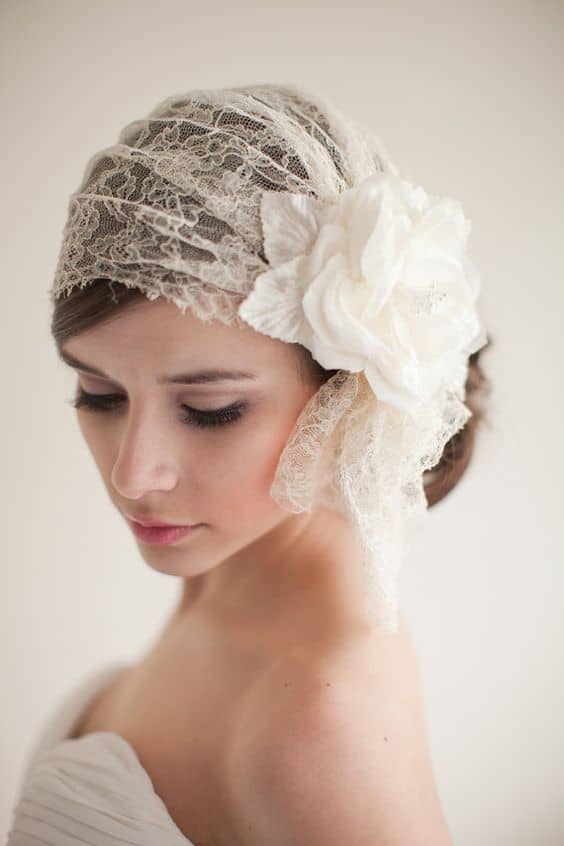 Credits: Pinterest
Bridal caps are edgy. Not many brides dare to wear them and that's what makes this bridal accessory special. You need a lot of personality to pull off one of these but, if you have the attitude, you will look like a bride to remember. It can cover the top of your head and only leave visible part of your hair if it is styled in a ponytail, or hide it completely if it is styled in an updo. Some are small and others have a long tail, some can be designed with feathers or with rhinestones, so you can choose one that fits your wedding dress the best and makes you look stunning.
3. Bridal tiara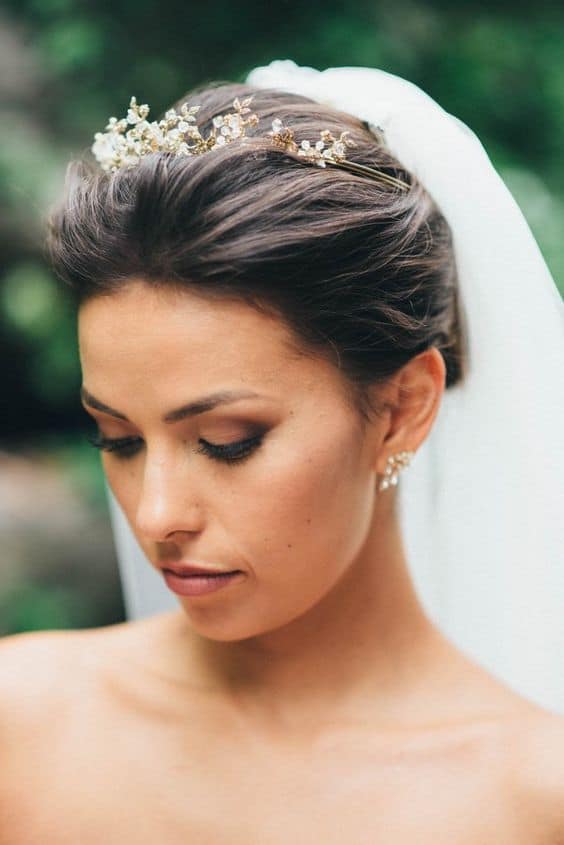 Credits: Pinterest
Wearing a tiara on their wedding day is like a little dream many women treasure from their days playing as princess. You will feel like royalty carrying on top of your head a tiara. It works best when worn with an updo or a half updo since it can be better appreciated. If you have left your princess days well behind and want something less flashy, you can find tiaras that have more subtle designs. The golden and silver ones are very popular for dresses in ivory and white shades. You can find them not only made of shiny stones but feathers too.
4. Birdcage veil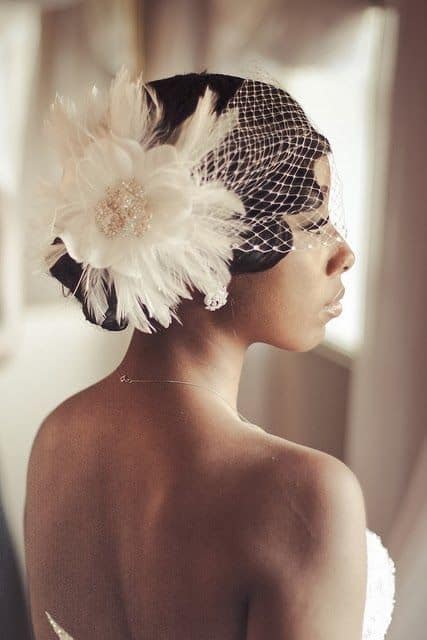 Credits: Pinterest
If you are a fan of the good old days, you must incorporate a birdcage to your look. This vintage accessory will give you the charm of the 20's and make you look glamorous in front of the altar. It's a very trendy way to use the traditional veil without having to cover your entire face or having too much fabric hanging around. A birdcage veil will highlight your facial features and your makeup: it will give a certain air of mystery to your look and, if it ends just above the lips, it will make your lipstick color pop. It works well with any type of hairstyle.
5. Hair comb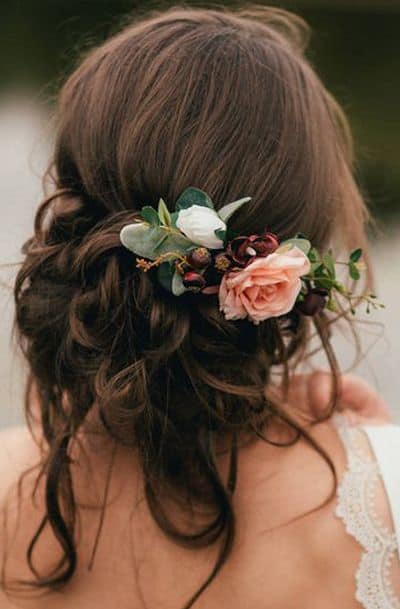 Credits: Pinterest
Hair combs are a trendy item that can be worn in a lot of different ways. For your bridal look though, I would recommend you use it to decorate an updo beautifully. You can add it on top of a polished bun or on the side of it. They have different designs involving many materials such as natural feathers, rocks, pearls, metal, and others.
6. Hairpins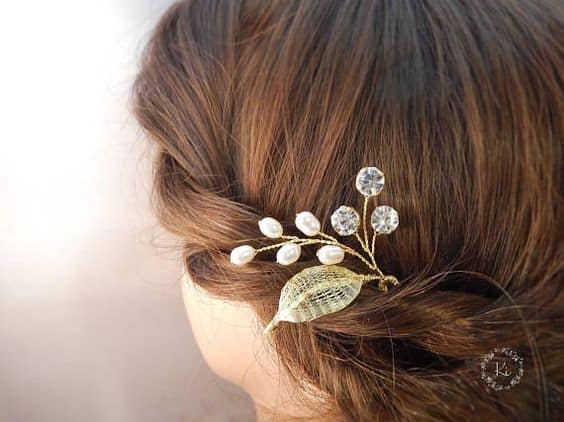 Credits: Pinterest
Hairpins are an old favorite. They come in different designs created by many types of materials. And they are small, which means they are not heavy and you can usually use many of them to decorate your hairstyle or to hold it in place. Another good thing is that you can most certainly have them being custom made, just created for you, since they are a simple hair accessory: they are a normal bobby pin with a creative design at the end of it.
7. Cathedral veil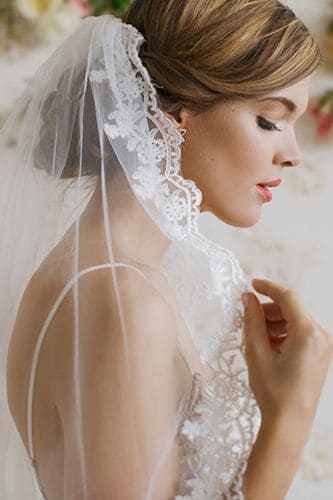 Credits: Pinterest
For the classy brides, a big and beautiful cathedral veil would work well to complete their wedding look. It will be the main piece of your bridal outfit because of the size: they involve more fabric than the birdcage veil and can be really long, floor touching, and even need some people to help to carry it from the back on your way to the altar. A cathedral veil in a fabric that matches the dress is a must, so that's a detail to pay attention to. The fabric can be decorated with rhinestones or have other types of applications, which will also enhance the weight of the veil. It works on any hairstyle.

Don't settle for a normal hairstyle on your wedding day. That's the day you should shine more than any other person in the room, so take the chances and try one of this eye-catching bridal hair accessories.