Last Updated on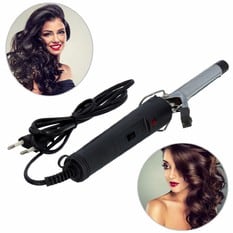 Curling irons have been popular hot styling tools for a long time, but the classic hot rollers are making a comeback. As more and more women are adding hot rollers to their collection of styling tools, it is time to look at the hot rollers vs. curling iron debate.
Is one better than the other?
Which tool is easier to use?
Which one has the best results?
There are several benefits for both hot rollers and curling irons. But when looking at the true differences between hot rollers vs curling iron, only one styling tool can be the best.
Hot Roller History
Hair rollers are one of the oldest hair styling tools. They offered women plenty of opportunities for lovely hair styles well before curling irons and heated hair rollers came into the forefront of hair styling. A hair roller allows women to get a quick curl with very little effort. When you add heat to them, the curls come even faster. As soon as women could heat up hot rollers and put them in their hair, the styles got bigger and bolder. Remember the bouffants of the 1950s and 1960? Those were all styled with hot rollers.
Hot rollers were also popular in the 1990s when the "Rachel" hairstyle was popular. As soon as that style faded, so did the love of hot rollers. Since then, the go-to styling tools have been curling irons and flat irons. Manufacturers have been able to redesign curling irons so they are safer and more effective. Manufacturers have also been able to do that with hot rollers. Now, both styling tools heat up quickly and include materials that are safe for hair.
Now that both hot rollers and curling irons are both safe for hair and effective to use, the debate about which is better moves to the efficiency of the tools. Since so many people like to multitask, a set of hot rollers lets women get more things done while they are styling their hair.
The Efficiency Debate: Hot Rollers vs Curling Iron
If you choose to style your hair with a curling iron, you cannot do anything else. Curling irons require your full attention. But, with a set of hot rollers, you can roll up your hair and get other things done while the rollers set. The time is spent rolling up the hair, not waiting for the rollers to cool. In reality, you will spend 10 to 20 minutes rolling your hair and putting it in the place. But with a curling iron, you have to roll up each individual piece of hair and hold the curling iron in place while it does its job. Therefore, curling irons are less efficient than hot rollers.
Hot rollers have another benefit over curling irons. A set of hot rollers includes rollers in different sizes. Of course you can use curling irons in different sizes, but they all have to be plugged in individually and you have to wait for each curling iron to do its job. With the varying sizes of hot rollers, you can get a beautiful hair style with curls that add richness and texture.
Types for Thick and Fine Hair
If you have thick or fine hair, hot rollers can meet your needs better than curling irons can. A good set of hot rollers can effectively style long, thick hair in the same amount of time that it takes for them to set shorter, fine hair. By choosing different diameters and widths of rollers, thick hair can be wrapped quickly around the hot rollers. This is not the case with curling irons. They all have a limited amount of hair that will fit on the shaft of the iron, so the time it takes to style thick hair will always take longer than fine hair takes.
Safety Features
When it comes to safety, hot rollers are better than curling irons, too. It is very easy to burn your ears, neck, and scalp with a curling iron, but not with hot rollers. Hot rollers are heated in the section where you roll your hair, but not on the areas that are designed to be held. Hot rollers are designed to be cool enough to touch, but warm enough to effectively style hair. On a curling iron, the only part that is cool to the touch is the handle, but the heated iron is not.
Hot rollers are made of materials that are safer for hair, too. Many of the most inexpensive curling irons do not have any protections against burning hair. But with hot rollers, this is never an issue. Even an inexpensive set of hot rollers has materials that keep hair safe and protected.
Styles You Can Achieve
The curls that you can achieve with hot rollers and curling irons are very different. Hot rollers give big, sexy, loose curls that are more like the old Hollywood styles that stars like Elizabeth Taylor, Lauren Bacall, and Rita Hayworth would wear. Curling irons can create ringlets that are long and twisty, like Sarah Jessica Parker's, Beyonce's or Nicole Kidman's hair. Curling irons can also create loose, beachy waves – but so can hot rollers and for significantly less work. So, the best reason to use a curling iron is if you want the ringlets that hot rollers cannot make. Curling irons and hot rollers do offer plenty of opportunities for creativity – especially when they are used together.
Affordability and Quality
When it comes to affordability, the debate between hot rollers vs curling iron ties. The two styling tools are priced similarly. There are inexpensive sets of hot rollers and styles of curling irons. The same goes for mid-range and expensive sets. The only difference with the price points is that the inexpensive hot rollers are safer for hair than the inexpensive curling irons are.
If you are in the market for a new hot styling tool, it is time to give hot rollers a try. If the price and safety for your hair is not enough to convince you, the beautiful styles that you can achieve will do the trick. Both styling tools are fun to use, but hot rollers give you time to multitask while styling your hair.