Last Updated on
First impressions count. When it comes to our hair, we never get enough. There two options curly girls face daily; leaving the hair natural or straighten it. Most closet curlies are glued to a flat iron as they think men prefer the smooth, straight hair look over curls or kinks. To others, hair decision carries a lot of weight- your hair speaks more about your personality.
So, what happen when a curly girl tries a straight look for the day and vice versa? Enjoying the ability to maneuver the mane in either curl or straight, boosting the option to change visual impression when meeting someone new and want a new impression.
But should you? And would it make a difference?
Call it hair envy, a case of "the grass is always greener on the other side of the river," generally we ladies re always trying to manipulate our hair to do something different than what it is. The question is one better than the other and vice versa. Get perfect hair styling and beauty tips for Straight or Curly Hair.
Curly-haired girls are long for sleek locks. Still, women prefer straight manes lust over full-bodied curls. Luckily, you can have it both ways!
Let's show you how to optimize your natural hair type, and a few quick tricks for going sleek or adding your body.
Straight Hair is the Best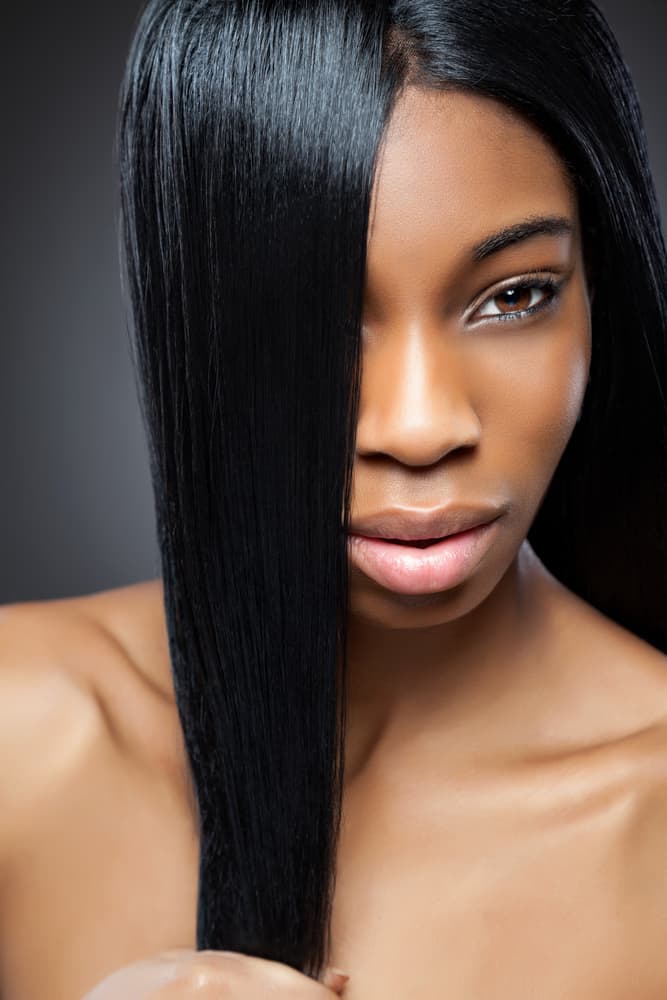 The best cut is your hair on the thick side, go long. The hair weight helps thwart puffiness giving it movement and adding in a few graduated layers. When it's finer, opt for a choppy shag or blunt bob. The styles create an illusion of fullness as noted by New Yolk City Salon specialist Paul Labrecque.
To style it you will need:
A deep-cleaning shampoo.
Scalp oils
Lightweight conditioner
Styling products
Paddle brush
How to style it:
Use a deep cleaning shampoo
Apply scalp oils to make the hair feel greasy
Follow with a lightweight conditioner on the end.
Brow-dry with a smoothing paddle brushes and aim the air toward the ends.
Rub shine serum between your palms then smoothes onto hair
Note: Don't load up on styling products, to flatten. Blow-dry directly into your hair and you're apt to create frizz.
Curling Straight Hair
To wear your naturally straight hair curly more often than not you need to choose a mid-length or longer layered cut, the layers add texture, creating the illusion of "bend" as they stack up on one another.
How to Style It:
Start with moisturizing shampoo and conditioner.
Hydrate the hair to hold its form (dry hair falls flat).
Towel-dry the hair or prep with Mousse.
Blow-dry the hair with a medium round brush.
Using an over-directing technique to build volume (working in two-inch sections and lifting the hair from one side of your head to other as you dry, focusing the air on the roots).
Finish by winding portions of hair around the medium-barrel curling iron.
Set the curls with lightweight hairspray.
Note: skip the spray if your hair is finer as the -the mist will just weigh it down.
Make the Most of the Curly Hair
Note, all curly hair isn't formed equal, and the flattering crop factors if you have loose waves or tight ringlets. Paul Labrecquesuggests stylist who specializes in cutting hair dry, to more accurately see how your curls fall and snip accordingly.
Generally, "curly hair should never be worn one length, offering the dreaded pyramid effect,"saysPaul Labrecque.
To Style It:
Use hydratingconditioner and shampoo, lift up the outer cuticle layers of curly.
Add extra moisture may help strengthen weak strands and prevent hair breakage.
Add nickelize drop of styling cream for thick hair to towel-dried hair.
Shape the hair into twists and don't forget to let its dry naturally, or using a diffuser.
For looser curls, complete styling by winding sections of hair around a large-barrel curling iron.
Note: at times it seems counterintuitive, but this can tighten coils a bit.
To Make Curly Hair Straight
For ease of styling, it's recommended going to extreme lengths. Short curly hair can be blown straight in minute's flat and long curly hair tends to straighten on its weight.
Unless you are committed to blow-outs, steer clear of midlength cuts. To make curly hair straighten, it's little like ironing a shirt. Thus you need consistent tension, steady heat, and some moisture. You need an anti-frizz (smoothing) shampoo and conditioner.
Work a drop of hydrating cream through damp hair
Spritz on a heat-protectant spray
Crank the dryer up to the maximum heat to dry the hair fast, before it curls again.
Pull hair taut and blowing on low speed (aim air toward the ends to avoid flyways).
Lastly apply a flat iron and a drop of shine serum.
As many people with curly hair or straight hair know, it is both a blessing and a curse, some days the hair looks flawless, and other days it looks like a lion's mane.
Here are the advantages that come with limitations.
The Pros and Cons of Curly Hair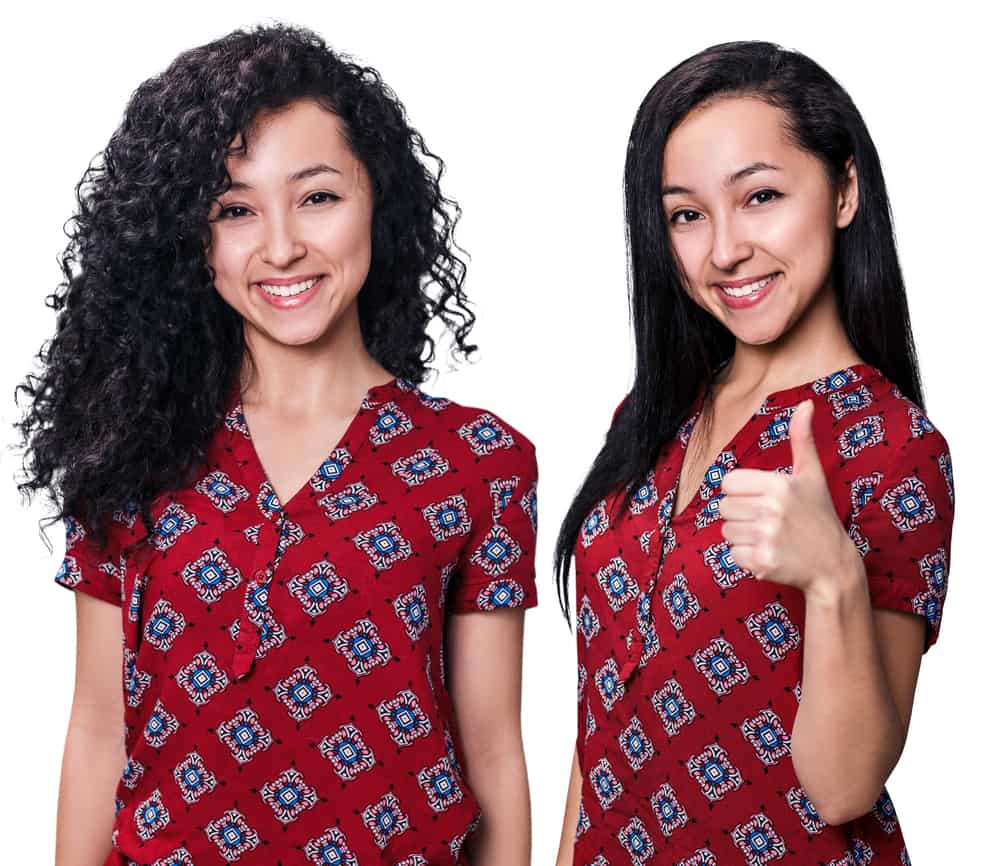 Curly hair allows you to roll easily out of bed ready to go, but heaven help you if you have a snarl.
Screw you, heat styling tools like hot rollers, no need to do your hair, but until a humidity hits the day.
It feels comfortable, to hair-flip your glorious mane anytime as long as you want, although most of the time you look and feel like a lion.
Curly hair brings volume and the cutie you're making out with may or may not drowning.
Curly hair seems more attractive than straight hair, with so many twists, turns, and secrets.
Great hair comes with great responsibility; the limitation is dealing with being fabulous 24/7.
Prosof Straight Hair
No need for frizz serums
Very, very, shiny
For less looks tidy and sleek
Smooths down flat to your head for complicated updos
Braids easily
A little easier to detangle (a little)
Easy to wash out (shampoo, peanut butter, marinara sauce)
Straight hair is strong, doesn't break off easily and pat easily
Cons of Straight Hair
Its shows greasy hair roots after excessive hair products very easily.
Hair elastics need to be wrapped around hair 3 or 4 times for it to hold.
Hairspray turns straight hair into a frozen curtain
You can't curl long straight as the weight drugs curl right out in minutes
Want volume? Really? Seriously? No
Last take
Reviewing all the pros and cons of straight hair, straight-haired girls will probably nod and laugh, while curly-haired girls may just sit and wonder at how the "other half" live with their hair straight, and vice versa.
Recommendation
I would recommend curly hair if you love bouncing hair, like playing with your hair, don't have to brush it, no ponytail ridge, easy to make fancy and relaxed.
Are you tired of your curly, frizzy and unruly hair that never stays in place? Or need a new look, old hairstyle and ready for a change? Either way, hair straightening is an excellent way to take control of those unruly curls and enjoy a whole new look at the same time.