Last Updated on
Long, curly hair can be pretty uncontrollable compared to long, straight hair especially if you want to style it with braids. However, it doesn't mean that you will just settle for a boring ponytail all throughout your life. Being blessed with curly hair, you must take some time understanding your natural wisps and tending its special needs. Yes, long curls is a blessing. Just come to think of other girls who spend so much time curling their hair for a date or an occasion when on the other hand, you have the privilege of carrying your beautiful curls day and night.
Start with nurturing your long curls and going for hair care products that are especially made for it. If possible, opt for 100% natural or homemade hair products so your tresses just get the right kind of care it wants.
Don't panic about braiding your long, curly hair. In reality, what you thought would be a hard styling sesh can be a great time for you to explore which kinds of braids actually look fab on the shape of your face and the texture and volume of your long curls. Trust me, it's going to be an awesome self-discovery and you might even thank me for helping you unleash your inner diva.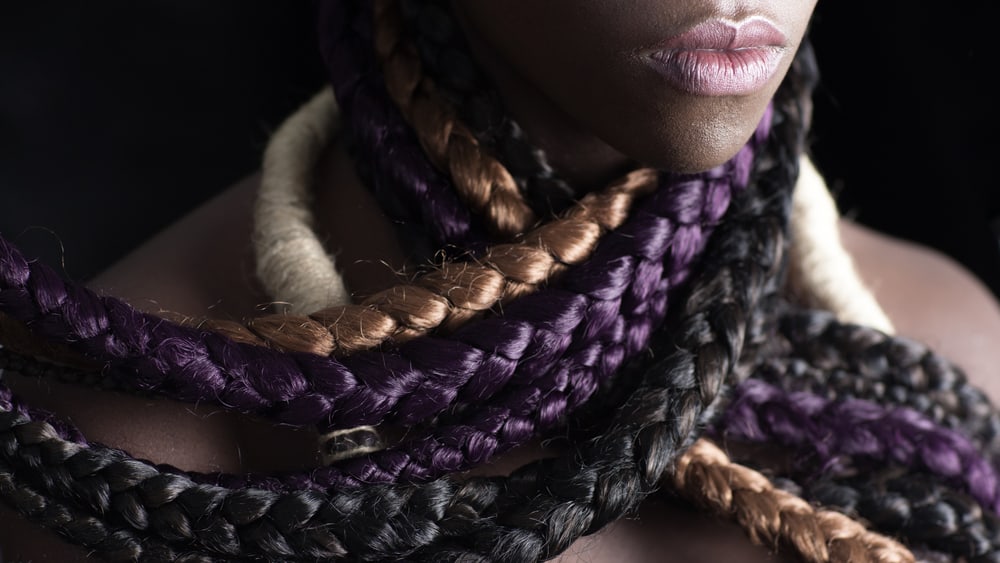 Why Braids Are In?
Truth is braids are not a new thing in the hairstyle industry. However, a lot of celebrities and models of topnotch designers wear braids on the red carpet and on the catwalk, hence enticing more and more of us to try it on too. With these said, braids are known as one of the easiest hairstyles that gives that oomph vibe. It can make you look casual, chic, and glamorous depending on the day and event you are gracing.
Braids are also a smart hairstyle option during summer when the heat makes you want to cut your hair really short so it doesn't stick on your sweaty neck and nape.
10 Braided Hairstyles for your Long Curls
1. Boho Fishtail Braids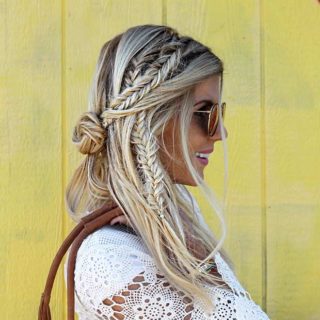 This is actually among the favorite go-to-braids for those with long, curly hair. To do this, you have to separate your hair into pigtails then braid one of it to fishtail braid until midway. From there, take the braid and wind it up on the left pigtail then start creating a fishtail with it while joining the half fishtail. You can simply YouTube fishtail braid or herringbone braid to see how it's done.
2. Braided Crown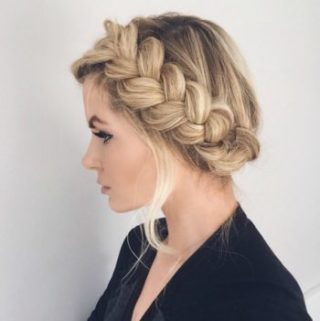 This kind of braid makes you look like a prim and proper chic – simple yet classy indeed! Start braiding one side of your hair just above your ear and do a half-French braid, picking up small parts of your hair closest to your forehead and continue doing it all the way across your head. Secure it with pins behind your other ear and tease your curls for the glam effect.
3. Waterfall Braids
This type of braid looks gives women with long, curly hair an advantage over straight-haired ladies. While it looks intricate and hard to do, it is actually very easy. You will get the hang of it after a few times of trial and error. Begin a normal French braid on one part of the top of your hair. Every 2-3 inches, drop 1 part of the braid outside and pick up a new bundle right beside it adding up to the top piece.
4. Pinned Up Braids
If you want to play with your long curls, this braid is highly suggested. Start making braids of all thicknesses and have it pinned to the back of your head using assorted clips. You can also leave some wisps for an added effect.
5. Special Occasion Braided Updo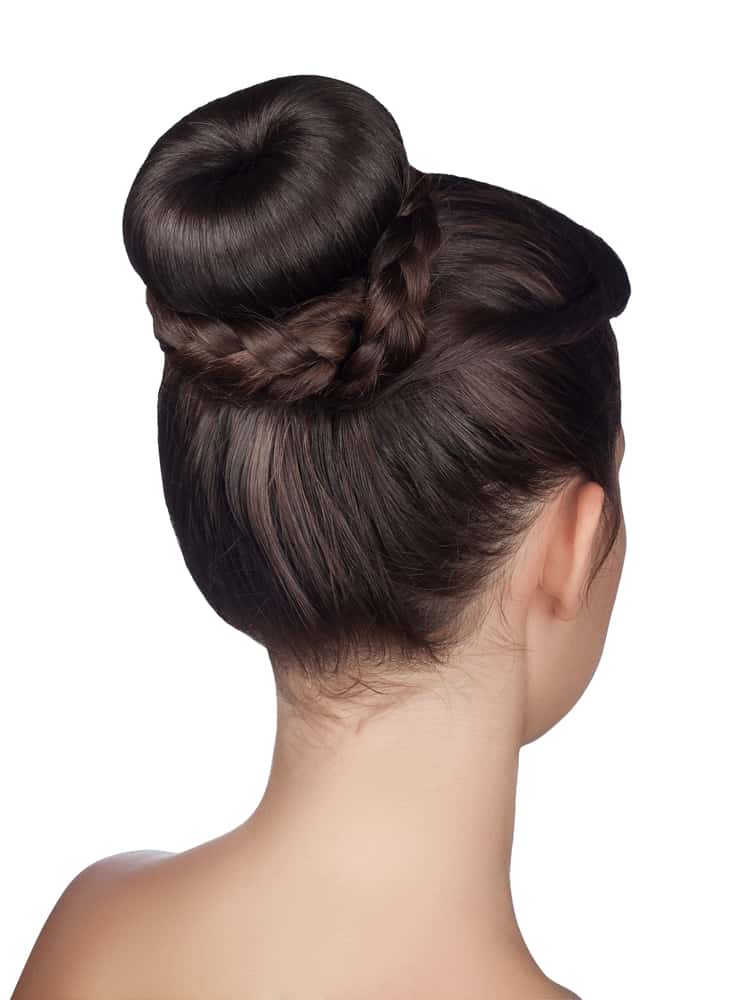 Be a casual chic with elegance when gracing a summer outdoor wedding that requires less formality. Incorporate small braids in your hair updo and you instantly look girly.
6. Side Braid
If you know how to French braid, you can easily do this one. Separate your hair in the middle and begin braiding the other half from your forehead to your ear then secure with pins beneath. This braid gives you a cute, chic look.
7. Front-to-Back Braid
This is another braid that seems hard to make, but when you have French-braiding skills, this will be breezy. Start braiding the top of your hair all the way back, making it thicker as you go along. This requires a lot of Bobby pins for security.
8. Braided Side Bun
Braid your hair from one side of your head to the other, picking up new bundles all the way across the other side. Once you reached the other side, secure loosely with a elastic band hair tie and twist into a messy bun.
9. French Twist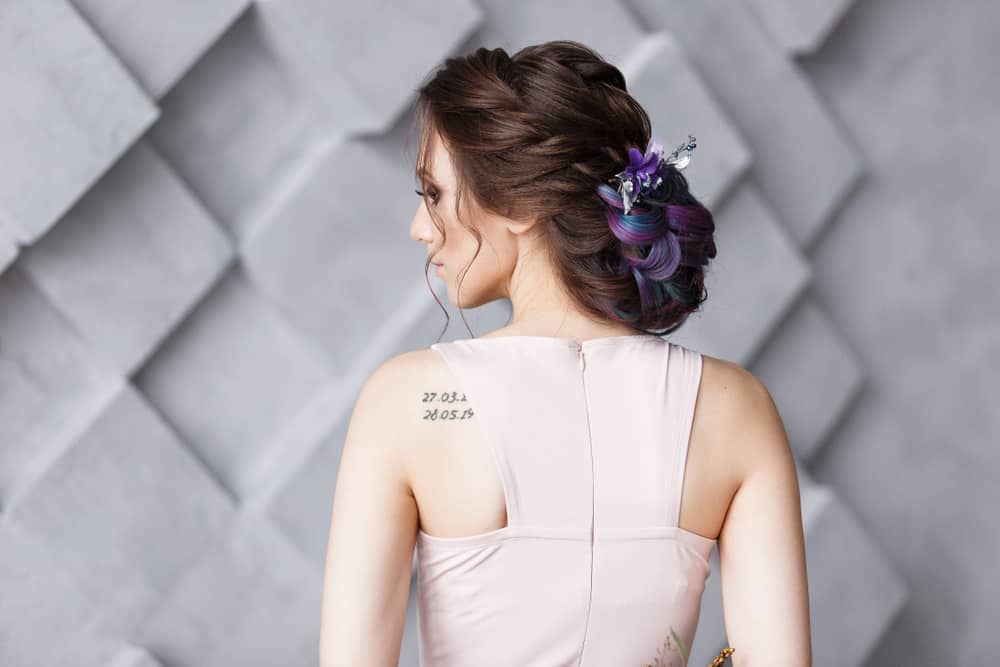 This kind of braid always gives that classy look that is perfect for formal occasions. Get a part of your hair from the top and secure with an elastic hair tie. Get one part of your hair from each side and tie them together a bit higher over the first tied hair. Twist them together and insert in between the two sides of your tied hair, securing it with a Bobby pin.
10. Standard Braid
Nothing beats classic, that's for sure! Now, if you think long, curly hair can't rock a standard braid, you are definitely mistaken. Try this easy braid out. Gather your entire hair to your nape and start braiding until the end. You can have your braid going on one side or straight on your back.
In A Nutshell
There are lots of braids you can try on your long curls. You just have to experiment and see them for yourself. To ease the trouble that comes with braiding your hair, braid it while it's wet and comb a small amount of gel on through it. Bobby pins and elastics are your greatest allies when it comes to securing your braided curls. Do not limit yourself to what you can do with your long, curly hair. Browse limitless video tutorials to practice perfection.